I reviewed MediaPlatform's WebCaster product for Streaming Media Magazine and loved it. Here's the intro; check out the full review here.
Webcasts are a great tool for acquiring and retaining customers. They're also great for training and communicating to both employees and partners. If you're considering presenting webcasts for any of these reasons, MediaPlatform, Inc.'s WebCaster should be on your shortlist of platforms or platform providers.
Why? A number of reasons. First, the basic webcasting functionality is comprehensive, and it can include live streaming audio and video, on-demand audio and video, PowerPoint slides, Flash animations, and screen demos. The system enables audience participation features such as polling, surveys, and Q&A.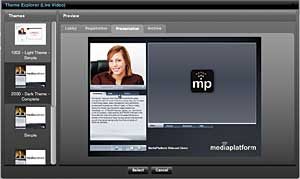 The system itself is available as a SaaS (software as a service) for companies that don't want the hassle of installing and maintaining a webcasting server, but it can also be licensed and installed on- site for usage behind a firewall. As a SaaS, your webcasts are delivered by Akamai Technologies or other CDNs, ensuring highly scalable delivery to as many fannies as you can get in the seats, plus the licensed system can efficiently deliver within corporate networks via Adobe's multicast fusion. You also get rare features that only a cloud-based solution can inexpensively provide, such as the ability to integrate audio and video feeds from multiple speakers at different physical locations.