Jan Ozer is a trusted authority on codecs and streaming media production. Through his courses and writings, Ozer teaches streaming professionals the concepts, technologies, and skills needed to excel in their roles.
In his consulting practice, Ozer helps streaming media producers optimize the quality and compatibility of their live and VOD streams and the efficiency of their encoding and delivery ecosystems.
Key courses: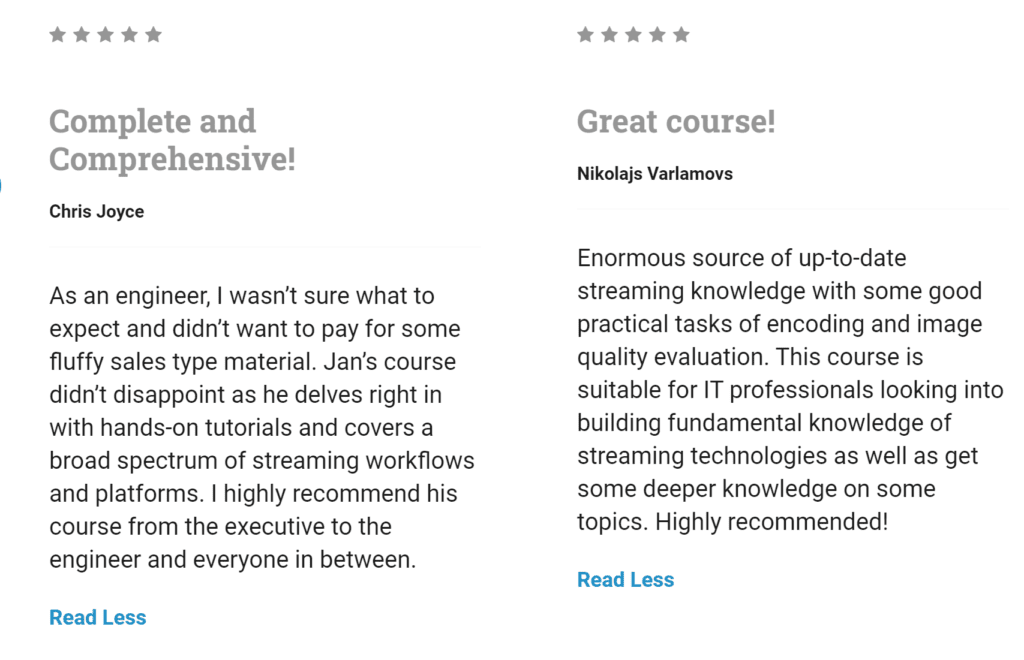 Reviews of online course Streaming Media 101.
Streaming Media 101 – This course teaches the fundamentals and skills necessary to excel in a streaming media-related job, whether you're producing and distributing streaming media or creating the tools, technologies, and services necessary to do so
Encoding with the AV1 Codec – Learn to efficiently produce optimized AV1 video with FFmpeg (libaom-av1), the Alliance for Open Media's standalone aomenc encoder, Intel's SVT-AV1, and Visionular's Aurora1 codec. Save hours of experimentation and get it right the first time.
Computing and Using Video Quality Metrics: A Course for Encoding Professionals – This course will teach you how to choose and use video quality metrics like VMAF, SSIMPLUS, PSNR, and SSIM.
Consulting practice:
Recommendations from consulting clients on LinkedIn.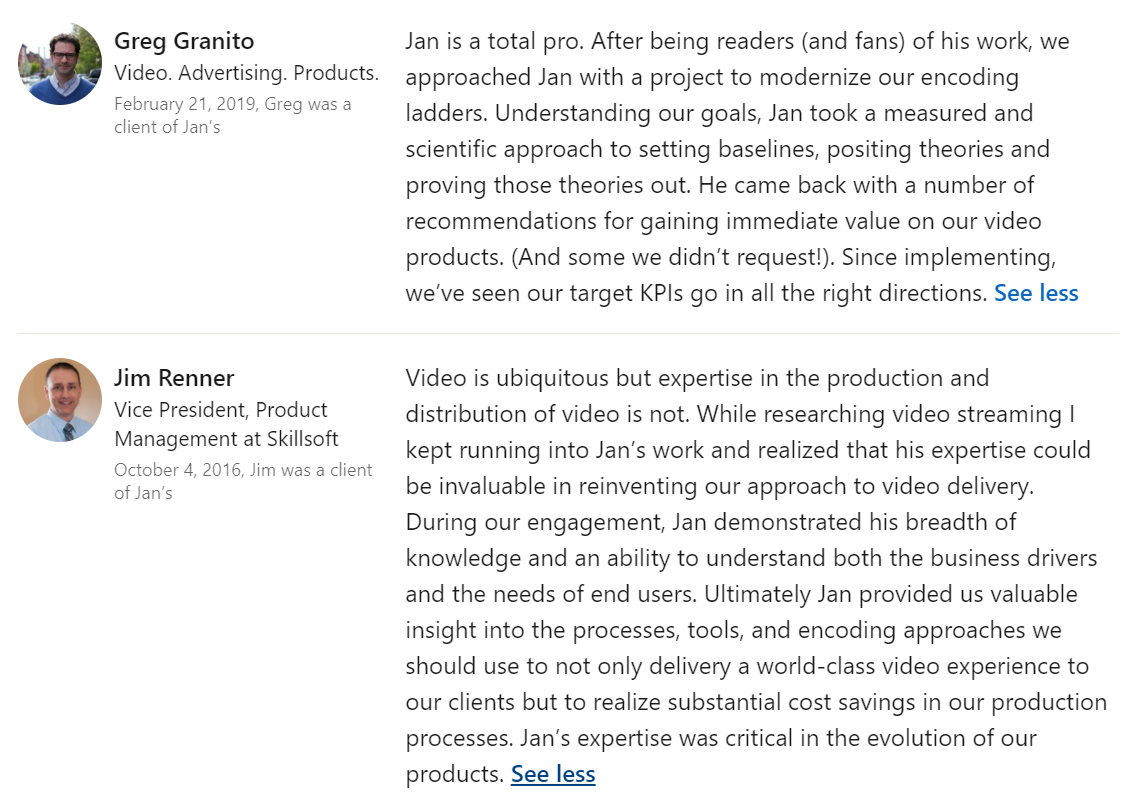 Ozer consults widely with streaming producers and developers of codecs and encoding tools. Recent projects include:
Testing the performance of the LCEVC codec with V-Nova
Testing the performance of new transcoders from Xilinx
Testing the transcoding performance of NETINT encoders
Measure the benefit of deploying HEVC, VP9, AV1, and VVC into a live encoding workflow (private client).
Measuring the effectiveness of certain per-title encoding technologies for OTT usage (private client).
Experienced Compressionist and Trainer:
Ozer is an experienced and highly-regarded compressionist, writer, consultant, and trainer of both in-person and video online courses.
Writing Credits
The best place to research Ozer's articles is at Muck Rack, which contains a list of all recently published articles