Live streaming at scale is the perfect application for hardware transcoders that deliver highly-affordable encoding density. Xilinx just announced a series of transcoding appliances targeting these live streaming use cases built around the new Xilinx Real-Time (RT) Server reference architecture. I've been benchmarking output quality with two card-based encoders deployed in these appliances, the Alveo U30 and Alveo U50.
The Alveo U30 card is designed for throughput and the lowest cost per channel. The U30 supports H.264 and HEVC encoding and can stream up to sixteen 1080p30 channels per card. The Alveo U50 is for high-quality, low bitrate applications and also supports H.264 and HEVC, and a single card can deliver up to seven full-HD 1080p60 channels along with eight full ABR ladders (all at x265 medium preset). The picture above is the RT server with eight Alveo U50 cards. You can drive both cards via an FFmpeg-based interface and several other APIs. You can read more about these solutions here.
Ultimately, my tests will incorporate:
Objective testing using VMAF and PSNR
Formal subjective testing
Transient quality analysis
Performance (how many ladders per device)
Latency and data rate consistency
You can download preliminary results of objective metric testing here. This table of Contents shows what's covered.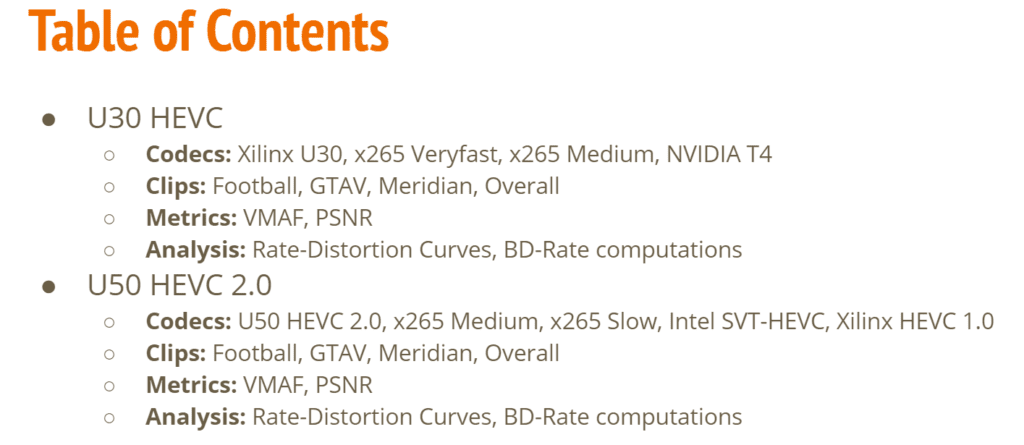 Look for the complete report in the next 4 weeks or so.