Video games are a huge market segment, projected to reach US$221.4 billion in 2023 and expanding to an estimated US$285 billion by 2027. Of that, cloud gaming grossed an estimated US$3 billion+ in 2022 and is projected to produce over US$12 billion in revenue by 2026.
If you're not familiar with cloud gaming, the next few blog posts will bring you up to speed. In this post, we'll cover what cloud gaming is, how it's different from PC/console gaming, and the advantages that it delivers to gamers. Later posts will discuss the technology involved in cloud gaming, particularly the compression side.
What is Cloud Gaming
Figure 1, from this article, illustrates the difference between PC/console gaming and cloud gaming. On top is traditional gaming, where the gamer needs an expensive, high-performance console or game computer to process the game logic and render the output. To the extent that there is a cloud component, say for multiple players, the online server tracks and reports the interactions, but all computational and rendering heavy lifting is performed locally.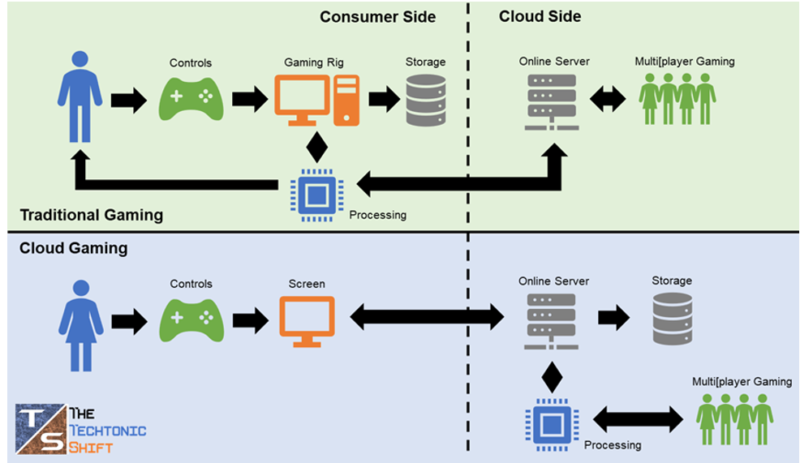 On the bottom is cloud gaming. As you can see, all you need on the consumer side is a screen and game controller. All of the game logic and rendering are performed in the cloud, along with encoding for delivery to the consumer.
How Cloud Gaming Works
Figure 2 shows a high-level cloud workflow – we'll dig deeper into the cloud gaming technology stack in future articles, but this should help you grasp the concept. As shown, the gamer's inputs are sent to the cloud, where a virtual instance of the game interprets, executes, and renders the input. The resultant frames are captured, encoded, and transmitted back to the consumer, where the frames are decoded and displayed.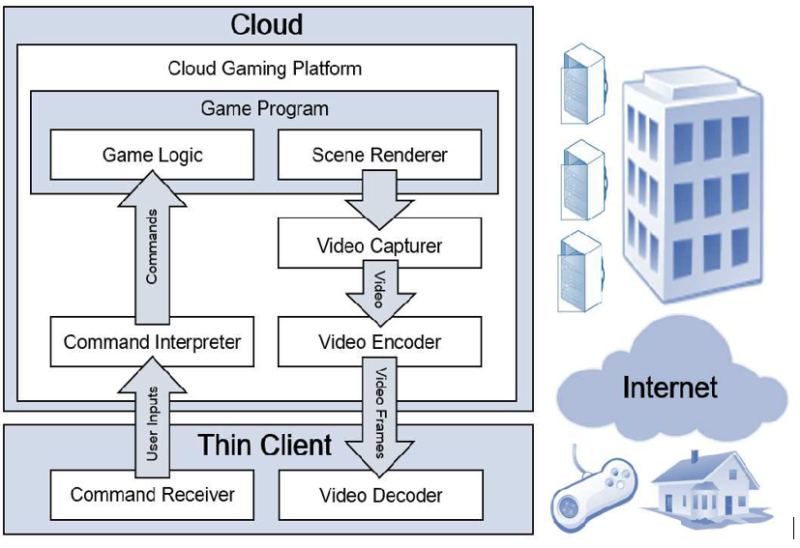 Cloud gaming services incorporate widely different business models, pricing levels, available games, performance envelopes, and compatible devices. In most cases, however, consumers benefit because:
They don't need a high performant PC or game console to play games – they can play on most connected devices. This includes some Smart TVs for a true, big-screen experience.
They don't need to download, install, or maintain games on their game platform.
They don't need to buy expensive games to get started.
They can play the same game on multiple platforms, from an expensive gaming rig or console to a smartphone or tablet, with all ongoing game information stored in the cloud so you can immediately pick up where you left off.
Publishers benefit because they get instant access to users on all platforms, not just the native platforms the games were designed for. So, console and PC-based games are instantly accessible to all players, even those without the native hardware. Since games aren't downloaded during cloud gaming, there's no risk of piracy, and the cloud negates the performance advantages long-held by those with the fastest hardware, leveling the playing field for gameplay.
Cloud Gaming Performance
Speaking of performance, what's necessary to achieve a traditional local gameplay experience? Most cloud platforms recommend a 10 Mbps download speed at a minimum for mobile, with a wired ethernet connection recommended for computers and smart TVs. As you would expect, your connection speed dictates performance, with 4K ultra-high frame rate games requiring faster connection speeds than 1080p@30fps gameplay.
As mentioned at the top, cloud gaming is expected to capture an increasing share of overall gameplay revenue going forward, both from existing gamers who want to play new games on new platforms and new gamers. Given the revenue numbers involved, this makes cloud gaming a critical market for all related technology suppliers.