Displaying PowerPoint slide shows in a window comes in handy for presenting in webinars and for screencam capture. 
Like most of us out there, I've been using PowerPoint for about six thousand years. One feature I just learned, displaying slide shows in a window, comes in handy for two common use cases for me, presenting at webinars and recording 1920×1080 screencams on my 4K desktop. I'm guessing 99% of PowerPoint users know this already, but if you don't, here goes.
By way of background, I use animations in my slides to help retain viewer interest. As you know, the only way to trigger the animations is to run the slide show. By default, the show goes to full screen, which means I couldn't record 1920×1080 screencams on my 4K HP notebook. In addition, when presenting in a webinar program like GoToWebinar, I created a non-animated PDF of the presentation that I could display in Acrobat because the PowerPoint slideshow again went full screen.
Well, in case you didn't know it, you can display the slide show in an individual window by clicking Set Up Slide Show in the Slide Shot Toolbar, and choosing Browsed by an individual (window) as shown below. This opens the slide show in a window the same size as your existing PowerPoint window which you can also resize. Operation is identical to full-screen operation, you click to advance through your animations and to move through your slides.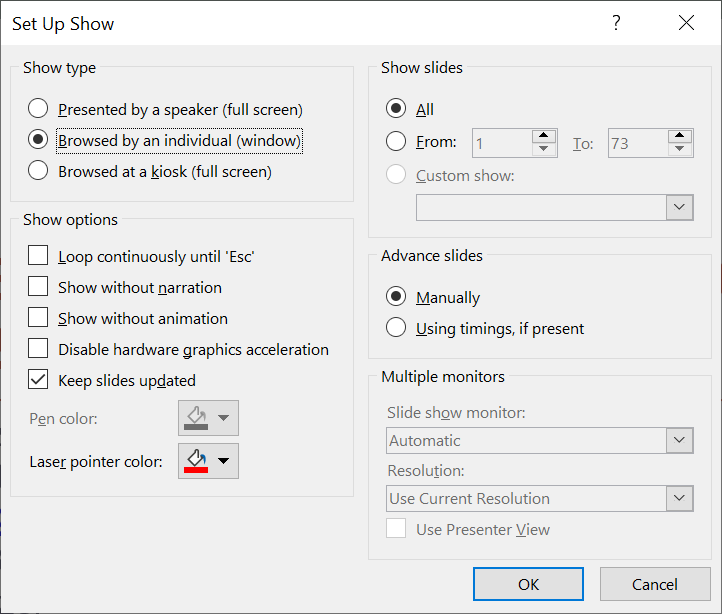 If you already knew this, sorry to waste your time; if not, I hope you find it useful.