This software development manager found Streaming Media 101 "worth taking" for all new media professionals. 
I've never met Spoorti Hallur from Xperi Corporation in person (we're connected on LinkedIn), but I'm guessing she's a glass-half-full kind of person. At least she seems that way in the fabulous review she just gave the course Streaming Media 101: Technical Onboarding for Streaming Media Professionals on LinkedIn.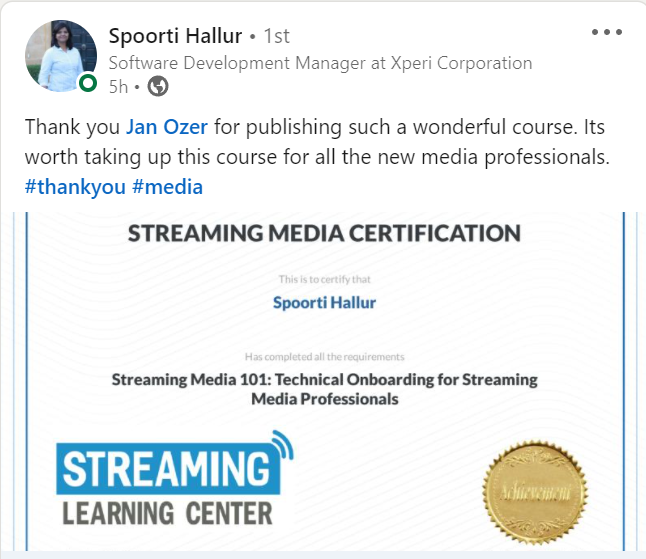 Thanks, Spoorti – I'm glad you found it useful and appreciate your taking the time to write these comments.
Here's a quick blurb about the course: In about 11 hours, this course will teach you the terms, technologies, best practices, and skills needed to excel in a technical role in the streaming media industry. You will learn:
How to encode and deploy streaming video using the H.264, HEVC, VP9, and AV1 codecs.
What the VVC, LCEVC, and EVC codecs are and when they will become relevant.
How to encode for single file and adaptive bitrate encoding and packaging for HLS, DASH, and CMAF.
About digital rights management (DRM) and distribution issues like choosing a CDN and how to measure and ensure Quality of Service (QoE) and Quality of Experience (QoE).
Critical production-level decisions, like whether to encode on-premise or in the cloud, how to choose a per-title encoding technology and cloud encoder, and how to compute the breakeven for deploying an advanced codec like HEVC or AV1.
How to analyze files with MediaInfo, Bitrate Viewer, Apple's AVQT, and the Moscow State University Video Quality Measurement Tool, how to encode in FFmpeg and Handbrake, how to produce mezzanine files for upload to a streaming service, how to connect to YouTube Live and Facebook Live, and how to embed a live or on-demand video into a web page.
Basically, everything they didn't teach you in college about streaming media production and delivery within the streaming media ecosystem.