The Streaming Learning Center will host a webinar entitled HEVC: Rating the Contenders on April 18, 2017 at 2:00 PM EST. The free event will review the findings of extensive comparisons of the x265 and MainConcept HEVC codecs with x264 and VP9. Specifically, the test protocol involved three test files, Sintel (an animated production), Tears of Steel (mixed real world video and special effects), and Netflix Meridian (all real world content).
The clips were encoded at three resolutions (720p, 1080p, and 4K) five data rates, with quality measured using the Peak Signal-to-Noise Ratio. This produced data for 15 comparisons like that shown below. Encoding presets were produced by the codec developers to ensure that quality was optimized, and settings were normalized so that both HEVC codecs produced approximately the same output in the same encoding time.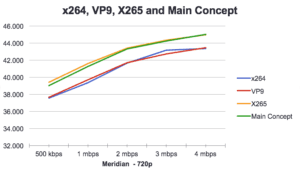 The study was designed to help those considering streaming HEVC video to understand how the two HEVC codecs compare in quality, both to each other and to x264 and VP9. Specifically, during the webinar, you will learn:
How x265 quality compares to the MainConcept HEVC codec
How x265 and MainConcept encoding presets trade off quality vs. encoding time
FFmpeg and x265 command line arguments for x265
How x265/MainConcept compare to highly optimized x264
How x265, MainConcept HEVC, and x264 compare to Google's VP9
The tests and results are updates of comparisons originally prepared and presented at the Streaming Forum in London in February, 2017. All encodes of both x264 and x265 were updated for this presentation.
Again, the webinar will be held on April 18, 2017, at 2:0 PM EST. Click the button below to register.