This blog includes the video and handout from my talk on "How to Produce x264 and x265 Video at Maximum Quality and Maximum Efficiency" at NAB 2023 (thanks to Dan Rayburn). Here's the description.
This research-based session explores configuration options like presets, threads, color depth, and others that impact output quality and encoding efficiency. Balancing encoding cost and streaming bandwidth, you'll learn how to choose the optimal preset based on the expected viewer count and the optimal core count for cloud instances to encode your video.
If you're looking for some tips on how to optimize x264 quality, or x265 quality with 1080p/8-bit encodes and 4K/10-bit encodes,  you'll find this useful. Here's the handout (download)
You'll have to watch the video on the NAB website because there are no embed codes, and it wouldn't be cricket to pirate a video professionally produced by Dan's team in Las Vegas. Go to this page, search for Ozer, and you'll find the video. Sorry for the inconvenience.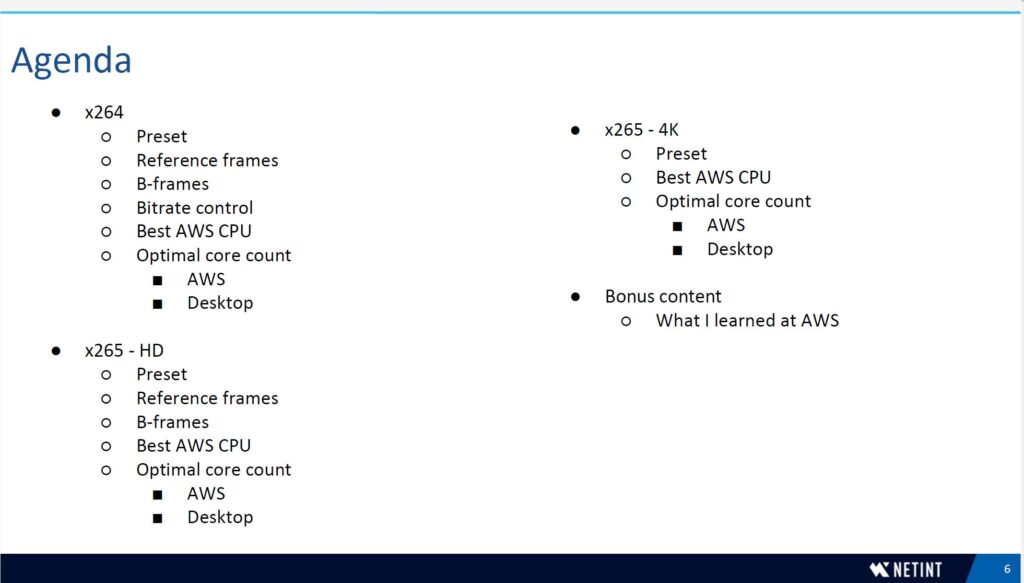 Here's the agenda. Obviously, x264 starts close to the front, x265 at around 28:21, and x265 4K starts at 36:50. Note that the camera follows me a bit too much to the exclusion of the slides (in the video), so the most efficient way to move through these materials might be to just read the handout.
Optimize x264 Quality/x265 Quality Resources: