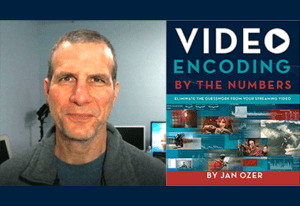 On February 2, online event producer INXPO published a question and answer session regarding my new book, Video Encoding by the Numbers. The session included six questions, ranging from, "how did you get into writing a book on compression?" to "who is this book for?"
The most revealing question was, "what's different from other books on streaming production?" Here's the response.
What's new in this book is that all compression-related configuration recommendations are backed by both objective quality metrics and encoding-time considerations. I don't just say, "use five reference frames," I show how the quality differs according to the different settings, with results from eight test videos that represent a range of corporate and OTT uses, from screencams and Powerpoint-based videos, to real world and animated footage for movie distributors.
Adding encoding time considerations into the equation yields some interesting results. For example, the chart above shows that using 16 reference frames adds very little quality to any of the videos over a single reference frame. However, using 16 reference frames almost doubles the encoding time. If you're an encoding shop running at capacity, you can either buy a new encoder, or reduce the number of reference frames and push more files through your current setup with no visual effect on quality.
In short, the book is the first to base encoding recommendations on objective quality metrics, and by incorporating the encoding time element, allows producers to make fact-based decisions on both configuration and capacity.
Click here to read the complete Q&A on the INXPO site.