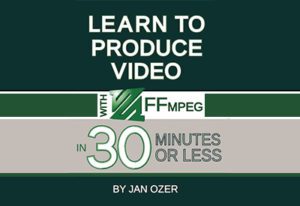 Below you can download a sample chapter of my new book, Learn to Produce Video with FFmpeg in 30 Minutes or Less. It's Chapter 12 Encoding HEVC, and I'm making it available for free for two reasons.
First and most important, the HEVC-related content in my other book, Video Encoding by the Numbers, is flat out wrong. So if you have the Video Encoding book and need to output HEVC via FFmpeg, please download the chapter below.
Second, as you may have heard, Apple will soon add HEVC decoding to in the latest versions of MacOS, iOS, and tvOS. So, now is a good time to get up to speed on HEVC.
That's it. The chapter is preceded by much discussion about basics like setting resolution, bitrate control, keyframe interval and the like, so it jumps right into HEVC encoding. As you'll see, like the rest of the book, the chapter is short, sweet, and focused.
For more information about the book, or to buy, please click here.