Telestream resurrects encoding.com's Global Media Format Report to provide valuable data on codec usage and other production details. 
For years, encoding.com's Global Media Format Report provided a key set of data points on codec usage and other topics from the prior years encoding production. Since encoding.com was the first and remains one of the largest cloud encoding providers, this data was timely and useful. However, the firm stopped publishing the report in 2019 or so (my last coverage here). Happily, Telestream, which acquired encoding.com in 2022, has now published a 2023 version. You can (and should) download your copy here.
Unlike Bitmovin's Video Developer's Report, which reports survey data, the Telestream report represents "data gathered anonymously from current clients utilizing Telestream's cutting-edge cloud-native solutions" in 2022. So, it reports actual data from Telestream's clients, which include a number of toney brands like TNT, Fox, tubi, BBC, CNN, NBC, Peacock, NBC Universal, and many others representing 45 petabytes of data ingested, 3 million API calls per day, and 2.4 billion videos processed in 2022.
Not listed and presumably not included are tippy top-of-the-pyramid publishers like YouTube, Meta, Netflix, Amazon, Vimeo, and Hulu, who have their own encoding facilities. I say this not to diminish Telestream's findings but to caution that AV1 usage, which is very significant in YouTube, Meta, and Netflix, is almost certainly underreported in terms of the true percentage it represents in actual videos viewed around the globe. On the other hand, Telestream's findings obviously present a true picture of what the bottom 99.9% of streaming publishers are actually doing.
Beyond codec usage, the report details the usage of adaptive bitrate standards, HDR standards, screen resolutions, DRM frameworks, closed caption formats, audio formats, and advanced thumbnail formats. I'll focus on two, video codecs and ABR standards.
Codec Production
Figure 1 shows the codec production reported. Note that WebM isn't a codec; it's a container format. I asked about this, and Telestream responded that "we combine VP8 and VP9 into this category, but it is mostly (95%) vp9." This puts H.264 (AVC) at 58%, HEVC at 23%, VP9 at close to 16%, and AV1 at 3%.

For perspective, note that ReThink TV pegged overall codec usage in 2023 at 72% for H.264, 18% for HEVC, 8% for VP9, and 2% for AV1. It's interesting that Telestream's publishers deploy VP9 and HEVC at much greater scale than ReThink estimates is used in the general internet.
Figure 2 shows codec production over time. As you would expect, AVC dropped significantly since 2018, with HEVC and VP9 taking the most share.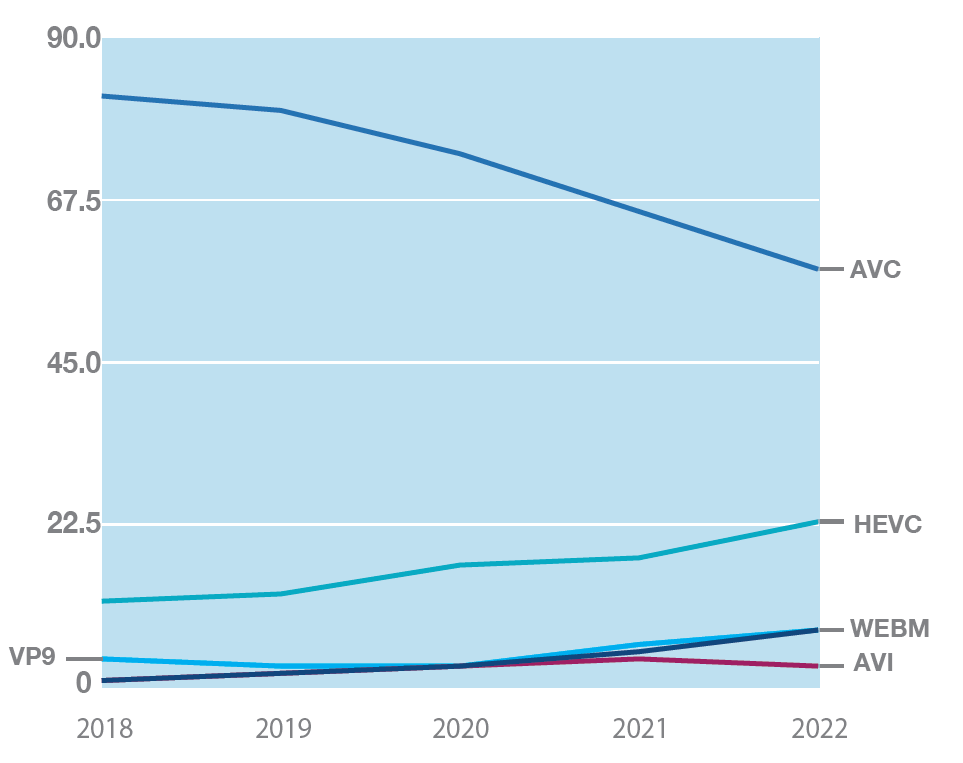 Figure 2. Codec production over time.
HLS, DASH, or CMAF?
In terms of adaptive streaming technologies, HLS has long dominated other HTTP-based technologies like DASH and Microsoft's Smooth Streaming, primarily because Apple devices play such a critical role as premium viewing devices, and HLS had a multi-year head start over DASH in the market. As shown in Figure 3, HLS continues to dominate for Telestream's customers. To the figure, the report adds the following comment. "When a client is producing a single OTT ABR output format, it is primarily HLS only. However, if they opt for two output formats, it will always be HLS and DASH in combination." No major surprise.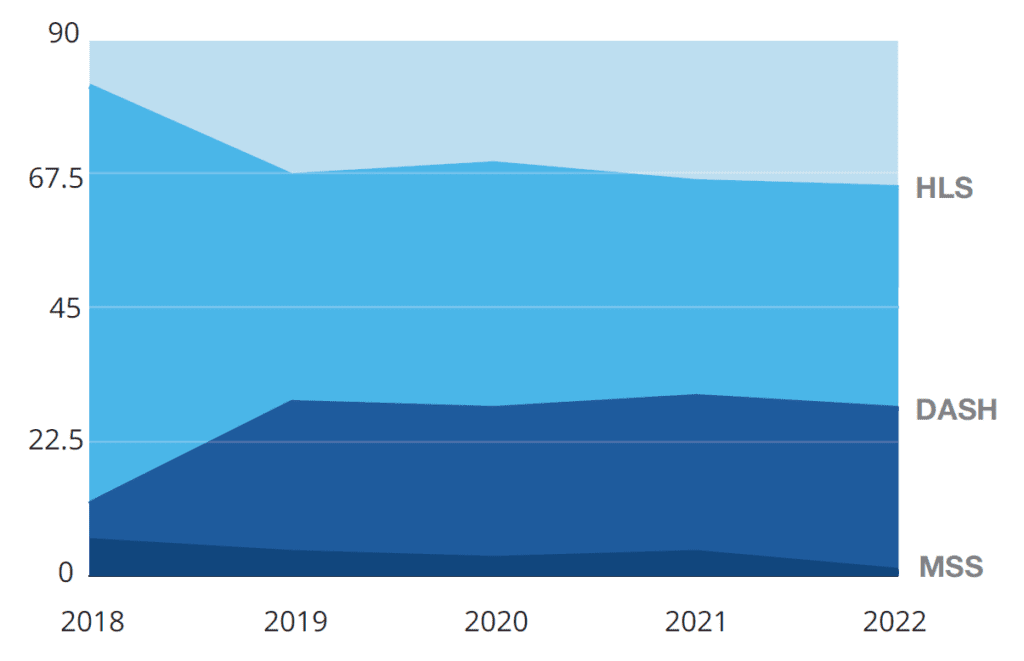 All that said, the market appears to be moving towards fragmented MP4-based video assets as opposed to MPEG-2 transport streams (.ts), which was the original HLS container. Accompanying the graphic shown in Figure 4, the report states, "CMAF (Common Media Application Format) is rapidly becoming the dominant standard in the streaming industry. Nearly all major streaming services are now using CMAF fMP4 (Fragmented MP4) based multi-manifest HLS/DASH ABR stacks. The use of TS (Transport Stream) based HLS workflows is now limited to only a few legacy client workflows."
Again, no major surprise, but an nice confirmation of CMAF's increasing value as the most efficient means for supporting multiple ABR technologies.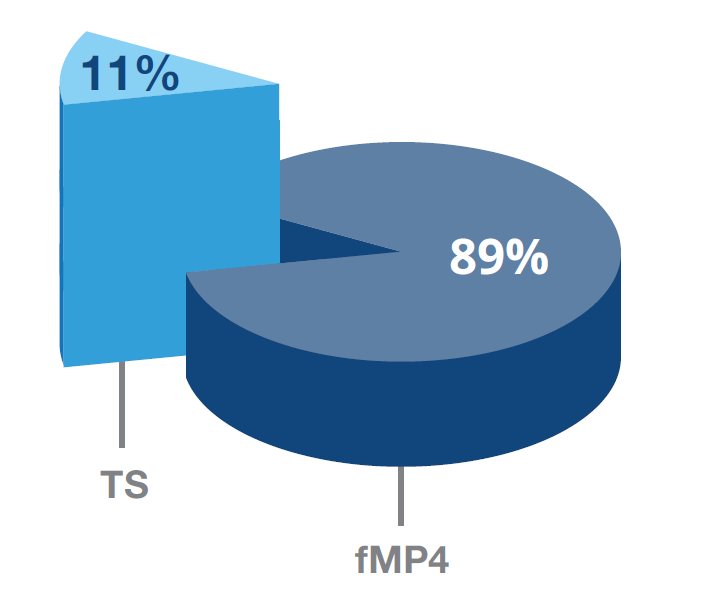 So, there you have it. Beyond what's shown above, the report contains valuable data about the encoding practices of some of the largest OTT shops around. Virtually all streaming professionals can benefit from downloading and perusing a copy; you can download the report here.