As the producer of webinars and virtual training events for Streaming Media Magazine and Streaming Learning Center, I'm always interested in information that helps me produce more effective events. A recent report from Bluejeans, the Verizon-owned video conference provider, provided several interesting data points. By way of background, the report discussed survey data collected by IDG from 200 respondents in a variety of industries who attended, on average, 20 virtual events in 2020.
The first interesting data point related to event format. As shown in the first figure, a live panel discussion was the top-scoring option. The second was an on-stage presentation with multimedia content elements, which I'm extending to desk-based presentations with multimedia elements. I've often wondered whether audiences liked canned videos mixed into the live presentation, and this seems to confirm that they do.

The other data point related to factors that motivated engagement. Here, the most important factor was the quality and professionalism of the video and audio. Interestingly, A/V quality scored ten points higher than content relevance, which to some degree means that how you look and sound is more important than what you're saying.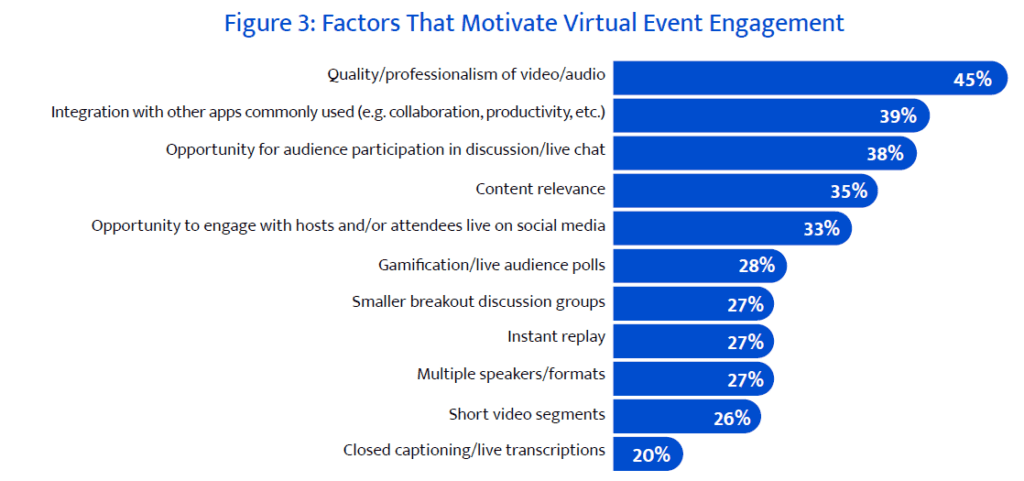 This kind of stinks given that we ask our panelists to participate because of their domain knowledge, not because the camera loves them or they sound like James Earl Jones. Still, the message is clear. Whether you're the promotor or participant if you want your webinars to be effective, you have to deliver professional quality audio and video.
As a promoter, I'm grateful for the many experts who shared their knowledge with various audiences but recognize that time is short for everyone. I've created some video lessons on how to look and sound your best, but in all honesty, when I encourage panelists to watch them, they inevitably don't.
I've been noodling on a two-page guide to send to the participants in upcoming virtual presentations and with the motivation from the Bluejeans report, finally got it done. It covers details about:
Measuring bandwidth
Options for camera, microphone, lights, and clothing
How to choose the best background
How to position your lights, webcam, and microphone
Proper rule-of-third positioning (with help from our favorite tech billionaire and philanthropist).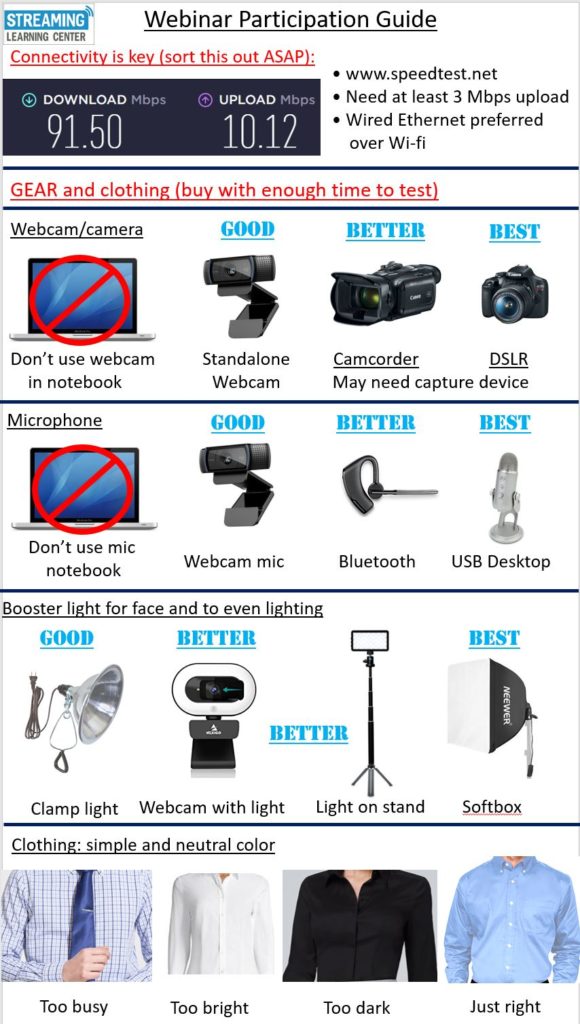 Please feel free to download and share as you would like. A couple of other resources you can look through are:
Are You Using the Right Audio and Video Equipment for the Next Online Meeting? – which is where I got the cool diagram on page 2.
MASS ORGANISING VIDEO CALLS – The Communications Union – excellent examples for lighting and positioning.
You can look and sound fabulous in webinars by spending $200 or less on gear and 20 minutes or less learning the techniques. If you're presenting in any upcoming webinars, trust me, your audience will thank you.