A recent report published by Unisphere Research and Streaming Media magazine, and sponsored by Beamr, reveals some interesting data on HEVC adoption. Entitled Real-World HEVC Insights: Adoption, Implications, and Workflows, the report is available for free download on StreamingMedia.com (registration required) and is authored by my colleague Tim Siglin, a Streaming Media contributing editor and founding executive director of the not-for-profit Help Me Stream Corporation.
Briefly, the survey garnered 406 quality responses, with 66% of respondents hailing from North America, another 20% from Europe, 6% from Asia-Pacific, and 4% from South America. Of these respondents, 31% were in engineering, 16% in operations, 25% in executive management, and 9% in project management.
After identifying the demographics, the report details where the respondents were in their migration to HEVC. As you can see in Table 1, 66% were either in the planning stage or beyond, with 11% in actual production, and 34% not planning to adopt HEVC. Interestingly, while 79% of respondents planned to use HEVC for 4K videos, 77% planned to use HEVC for 1080p videos, though this number fell to 37% for 720p videos. Significantly, 56% of respondents planned to integrate HEVC encoding into their existing AVC encoding pipeline, which should simplify deployments.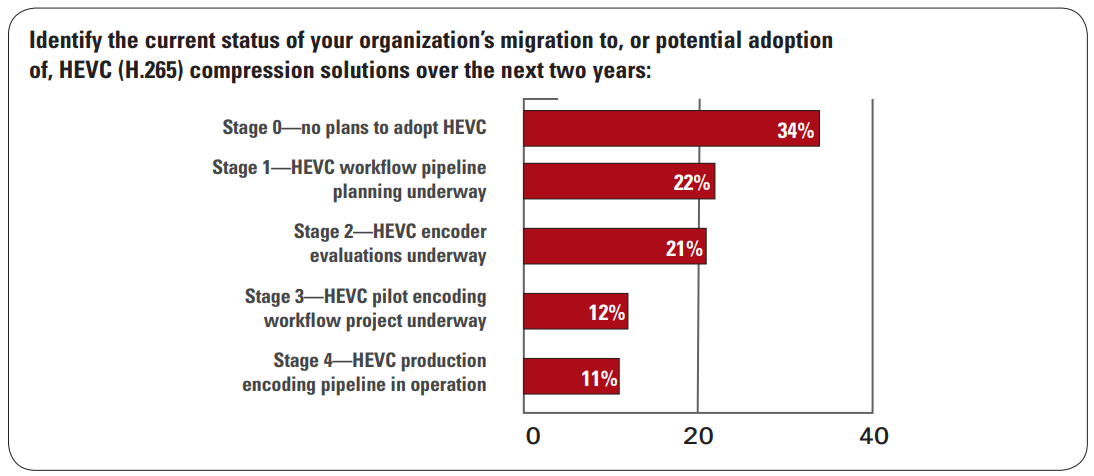 Table 1. Status of migration to HEVC.  
The survey next asked respondents which paid OTT services they actually used at home. Not surprisingly, Netflix (74%), Amazon Prime (60%), and Apple iTunes (40%) dominated, with YouTube TV at 27%, Hulu at 22%, and HBO Now at 21%.
Then, the survey delved into target devices and encoding practices. Interestingly, 61% of respondents encoded on premise, 27% in a public cloud, and 21% in a private cloud, with 29% using a hybrid on-premise/cloud approach. Regarding codecs, 58% planned to "invest in" HEVC in the next 12 months, with 52% indicating similar plans for H.264, 21% for AV1, and 14% for VP9.
Figure 2 ranked the challenges that respondents faced in adopting HEVC, with budget being the primary factor, followed by low HEVC device support, royalty rate, and licensing concerns. The report concludes with a look at production workflows, where a surprising 35% of respondents used encoding appliances, 36% used FFmpeg, and 22% used a commercial workflow management system.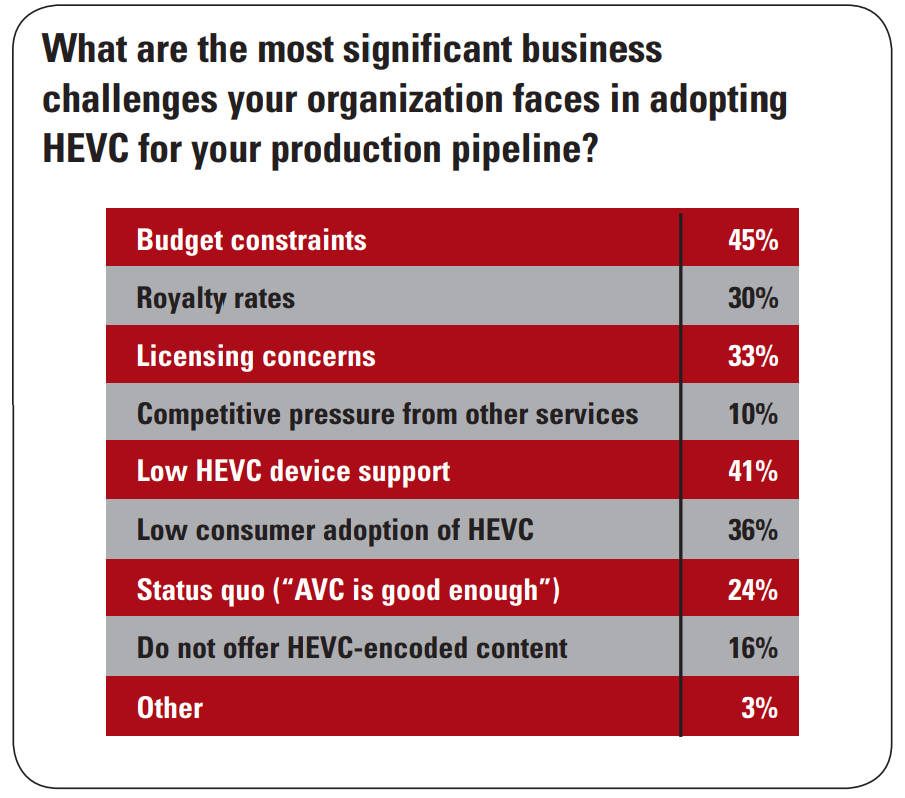 Figure 2. Challenges associated with HEVC adoption.
In the conclusion, Siglin notes that while licensing uncertainties have slowed HEVC's adoption, some of this was resolved when HEVC Advance eliminated license fees on non-physical media. He finishes by stating, "AV1 is not yet locked out of the market, but it is clear HEVC continues to gain traction. With the added benefit of HEVC easily fitting into some existing AVC workflows, the pace of HEVC adoption should steadily continue throughout 2018."
This strikes me as a non-sequitur as if codec adoption is a zero-sum game where one codec will achieve 100% and the other will be locked out. HEVC is entrenched in Smart TVs and OTT devices and will remain so, but seems to have made little progress in iOS, tvOS, and MacOS via HLS. HEVC is nowhere in computer browsers, and with Google, Microsoft, Mozilla, and Apple in the Alliance for Open Media, its prospects look bleak. Ditto on Android, where HEVC software playback peaks at 960×[email protected] fps, compared to 4K for iOS and AppleTV.
While AV1 won't blossom on devices and smart TVs until 2020, Netflix and YouTube should start distributing streams to computers in mid to late 2018. Legal issues notwithstanding, it's unlikely that either AV1 or HEVC will be "locked out" of any market for at least the next five years. This nit aside, the survey and report is a useful source of information for anyone who is considering adopting HEVC in the near term.