Ustream is the largest live streaming service provider and offers an unlimited free live streaming service funded by advertising, as well as white label versions starting at $99 per month. Otherwise, Ustream is competent throughout, with highlights like the ability to deliver multiple user-selectable streams. My only reservation is the embedded player, which is clumsy and returned me to the Ustream channel page when I clicked any videos in the library. 
Ustream offers extensive monetization programs, including advertising splits, and pay-per-view and subscription offerings. Ustream also offers lots of control over your videos. You can make any individual video private, or only viewable by those in a group. You can also make your channel private, remove it from Ustream.tv, or restrict embedding to specific URLs. Corporate sites might value the ability to moderate all comments before they appear, while all users will appreciate the easy ability to download previous broadcasts.
Channel Page
Ustream offers rich channel pages and an equally rich broadcast experience. Notable features include the ability to schedule broadcasts, which appear as upcoming shows on your channel page. Once completed, you can add highlights in your broadcasts, which are essentially cue points with a short text description that viewers can jump to. You get all the expected social media options like tweeting, liking to Facebook and +1-ing to Google Plus.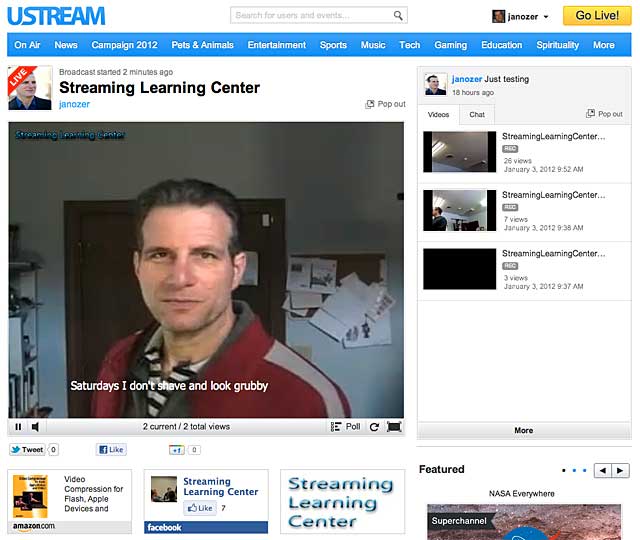 Figure 1. The Ustream landing page is feature rich, including links to ecommerce sites like Amazon beneath the player. 
On the design side, you can add iFrames to your channel page, creating custom content boxes that you can populate as desired. Beyond that, Ustream lets you create extensions that display links beneath your videos to products that you sell (Amazon, iTunes, thumbplay), your Twitter and Facebook pages, and banners that you can link to your website or any other site. That's how I created the link to my book beneath the player in Figure 1. You can also see the Streaming Learning Center text overlay on the upper left of the video in Figure 1, another nice (and rare) design option. 
When your channel isn't live, you have several options, including playing your last recorded video, a specified play list, or a slideshow that you can create in the administrative module, all great options to make sure that your channel never goes dark. This worked well on my desktop and Android players, though on my iOS devices, Ustream simply showed a video window with the message "this content is currently not online" in both the channel player and embedded players. During the broadcast, you can add text overlays to your live stream (see Figure 1), or post polls, though neither of these appeared on videos playing on my iPad or iPod Touch. They did appear on my Android-based Toshiba Thrive, and in the embedded player. 
On the iPad, Ustream took a few moments to "optimize" the stream, then played in a window with frequent pauses for rebuffering. I asked Ustream about this, and they said that the stream needs to be re-packaged for iOS, but once this is done, subsequent users should be able to play the files without this lag, which my tests confirmed. On the Toshiba Thrive, the video played quickly and responsively within the video window on the page, with little latency.
Embedded Player
Ustream's embedded player is not a particular strength of the system. You have two options: embed the live video player — sans chat or access to the video library — or embed the Social Stream, which provides access to the video library and chat. Of course, you can embed both, but the result is a bit clunky: two separate but related clumps of content on a page.
Figure 2. Ustream's embed options. You have to embed both Live and Social Stream to have access to your video library and chat. 
The embedded player itself is functional, so long as you embed both parts; otherwise, your viewers won't get chat or access to your video library. On my test computer, iPad, and Toshiba Thrive, the live video stream played in the embedded video window. On the iPod Touch, the video played in full screen. 
However, if you click a video in the video library in the embedded player on any platform, the viewer jumps to your Ustream channel page to play the file; with Livestream and Bambuser, the file plays in the embedded player. I asked Ustream about this, and they said that the video should play in the embedded player, and that they would look into what was happening.
Figure 3. Two embedded players, one atop the other.
The Broadcast Experience
Ustream's browser-based encoder is both easy to use and well featured, though lacking specific data rate control, which is frustrating when broadcasting over limited bandwidth. As you can see in Figure 4, beneath the main encoding controls are tabs where you can access the tools for adding text and polls, as well as disk-based videos, which is a nice feature for longer events when you'll need a break in the broadcasting. Video quality was good at the maximum quality setting, which had no problem streaming through my 800kbps-or-so outbound connection. CPU use during the broadcast on my HP 8760W Elitebook notebook, with a 2.3GHz 4-Core i7-2820QM CPU, maxed out at 11 percent.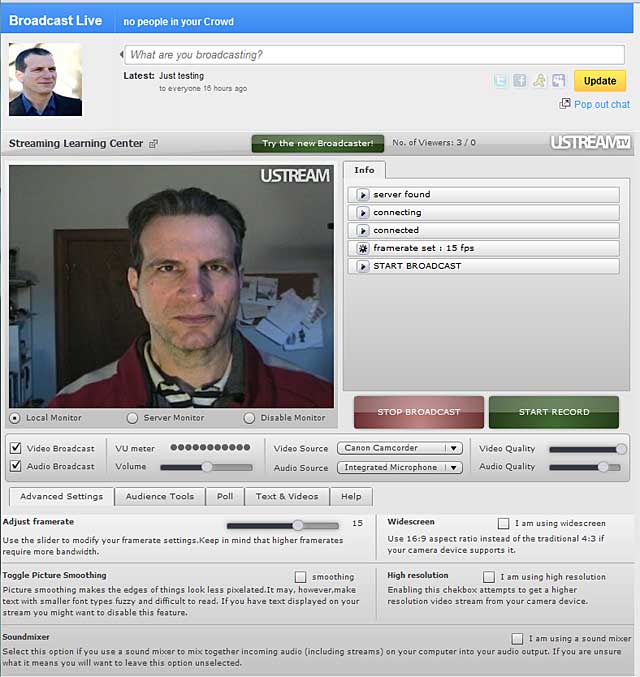 Figure 4. I liked Ustream's browser-based broadcast module. 
In addition to broadcasting from the browser, Ustream also offers three desktop applications, Ustream Producer (free), Producer Pro ($199) and Producer Studio ($549), all de-featured versions of Telestream's Wirecast Pro. There's a handy-dandy features table on Ustream's website that details the differences in the versions. 
If you're encoding with Adobe Flash Media Live Encoder, you can download an XML file with your configuration information, while for other encoders Ustream provides the RTMP URL and Stream Key, which should get you up and running with no problem. Note that you can't produce multiple streams for Ustream to distribute with the browser-based encoder, but can with any Producer version or third-party program that can produce multiple streams, including the Adobe Flash Media Encoder. 
After your event, Ustream provides playback metrics that show unique viewers and viewer hours, as well as the number of highlights created from your videos, the size of your crowd, and the RSVPs received for your events. You can view all metrics in a graph or export the raw numbers as a PDF or CSV file. 
Ustream's size allows it to deliver lots of eyeballs to your channel page, if that's what you're looking for, and the site offers competent or better functionality in all critical areas, particularly channel page customization and ecommerce options. The site needs to be on the short list of any organizations seeking a live streaming service provider.