If you have a camcorder at any enterprise, institutional, or even social event, you should consider streaming that event live. Live streaming can be free or relatively inexpensive, and live streaming services such as Ustream, Justin.tv, Livestream, and Bambuser are all reasonably easy to use. In the pages that follow, I present reviews of these four services; there are more out there, but these four have emerged as leaders, particularly during the Arab Spring and worldwide Occupy protests of the past year.
All live streaming services providers (LSSPs) share three main components — the channel page, the embeddable player, and encoding options — and these are the three areas I focused on in the reviews that follow.
The channel page is the page on the service's website where viewers go to watch your videos. This is obviously most important to organizations that want the bulk of their views to come on the channel page, as opposed to an embedded player on their own site or on a third-party site.
When comparing the channel pages, I looked at page configurability, monetization options, the number of eyeballs that the streaming service could direct to your video, social media options, and the playback experience on iOS and Android devices. For those who want to control the distribution of their videos, I also looked at the access control options available for each site and alternatives for moderating or otherwise controlling chat and comments.
Regarding the embedded player, I looked at how the feature set compared to the channel page; for example, whether you could access the same level of chat and social media-related functions and your video library. I also looked at how the embedded player performed on Android and iOS devices and whether the site could embed a video feed into Facebook, as opposed to providing a link back to the channel page.
All of these LSSPs offer browser-based encoding tools driven by the Adobe Flash Player, which provided ease of use but universally poor quality since Flash Player uses very outdated codecs. So here, I looked at the feature set and ease of use of other encoders offered by the site, as well as how easy the service made it to use third-party encoders such as the Adobe Flash Media Live Encoder and Telestream, Inc.'s popular Wirecast.
Ustream
Ustream is the largest live streaming service provider and offers an unlimited free live streaming service funded by advertising, as well as white-label versions starting at $99 per month. Otherwise, Ustream is competent throughout, with highlights such as the ability to deliver multiple user-selectable streams. My only reservation is the clumsy embedded player; it would return me to the Ustream channel page when I click any videos in the library.
Ustream offers extensive monetization programs, including advertising splits, and pay-per-view and subscription offerings. Ustream also offers lots of control over your videos. You can make any individual video private or only viewable by those in a group. You can also make your channel private, remove it from Ustream.tv, and restrict embedding to specific URLs. Corporate sites might also value the ability to moderate all comments before they appear, while all users will appreciate the easy ability to download previous broadcasts.
CHANNEL PAGE
Ustream offers very rich channel pages and an equally rich broadcast experience. Notable features include the ability to schedule broadcasts, which appear as upcoming shows on your channel page. Once completed, you can add highlights in your broadcasts, which are essentially cue points with a short text description that viewers can jump to. You get all the expected social media options such as tweeting, liking to Facebook, and +1-ing to Google+.
On the design side, you can add iFrames to your channel page, creating custom content boxes that you can populate as desired. Beyond that, Ustream lets you create extensions that display links beneath your videos to products that you sell (on Amazon, iTunes, or Thumbplay), your Twitter and Facebook pages, and banners that you can link to your website or any other site. That's how I created the link to my book beneath the player in Figure 1. You can also see the Streaming Learning Center text overlay on the upper left of the video in Figure 1, another nice (and rare) design option.
When your channel isn't live, you have several options, including playing your last recorded video, a specified playlist, or a slideshow that you can create in the administrative module; all are great options to make sure that your channel never goes dark. This worked well on my desktop and Android players, though on my iOS devices, Ustream simply showed a video window with the message "This content is currently not online" in both the channel player and the embedded players. During the broadcast, you can add text overlays to your live stream (see Figure 1) or post polls, though neither of these appeared on videos playing on my iPad or iPod touch. They did appear on my Android-based Toshiba Thrive and in the embedded player.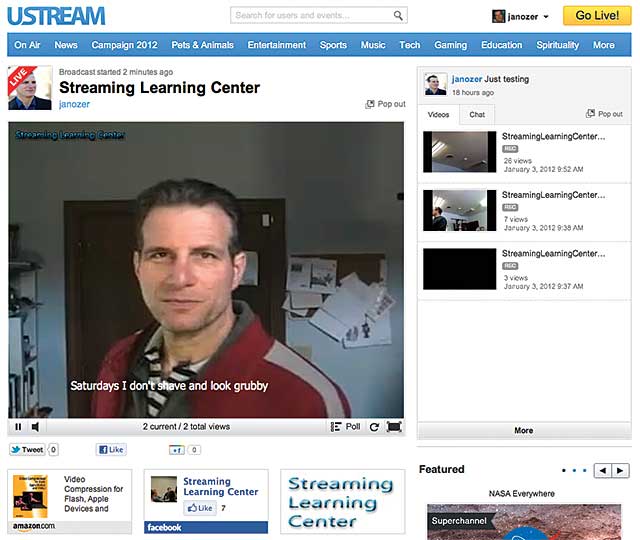 Figure 1. The Ustream landing page is very feature-rich, including those links to ecommerce sites such as Amazon beneath the player.
On the iPad, Ustream took a few moments to "optimize" the stream, and then it played in a window with frequent pauses for rebuffering. I asked a Ustream rep about this, and he said that the stream needs to be repackaged for iOS. But once this is done, subsequent users should be able to play the files without this lag, which my tests confirmed. On the Toshiba Thrive, the video played quickly and responsively within the video window on the page, with very little latency.
EMBEDDED PLAYER
Ustream's embedded player is not a particular strength of the system. You have two options: You can embed the live video player — sans chat or access to the video library — or you can embed the Social Stream, which provides access to the video library and chat (Figure 2). Of course, you can embed both, but the result is a bit clunky — two separate but related clumps of content on a page (Figure 3).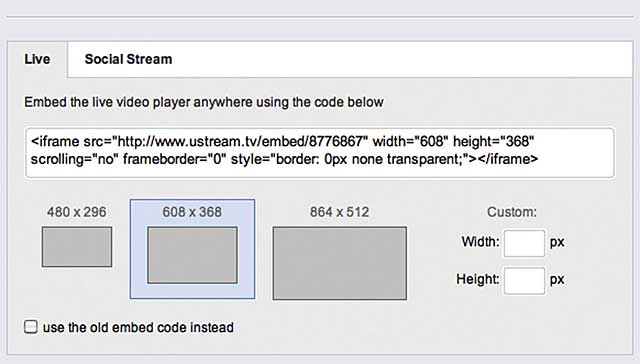 Figure 2. Ustream's embed options: You have to embed both Live and Social Stream to have access to your video library and chat.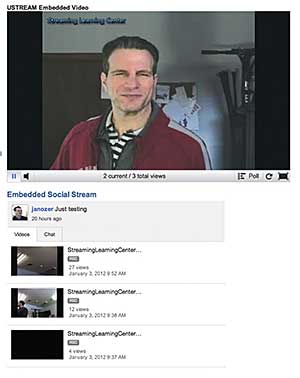 Figure 3. Two embedded players, one atop the other
The embedded player itself is functional, so long as you embed both parts; otherwise, your viewers won't get chat or access to your video library. On my test computer, my iPad, and the Toshiba Thrive, the live video stream played in the embedded video window. On the iPod touch, the video played in full screen.
However, if you click a video in the video library in the embedded player on any platform, the viewer jumps to your Ustream channel page to play the file; with Livestream and Bambuser, the file plays in the embedded player. I asked the Ustream rep about this, and he said that the video should play in the embedded player and that the company would look into what was happening.
THE BROADCAST EXPERIENCE
Ustream's browser-based encoder is both easy to use and well-featured, though lacking specific data rate control, which is frustrating when broadcasting over limited bandwidth. As you can see in Figure 4, beneath the main encoding controls are tabs where you can access the tools for adding text and polls and disk-based videos, which is a nice feature for longer events when you'll need a break in the broadcasting. Video quality was very good at the maximum quality setting, which had no problem streaming through my 800Kbps or so outbound connection. CPU use during the broadcast on my HP 8760w EliteBook notebook, with a 2.3 GHz four-core i7-2820QM CPU, maxed out at 11 percent.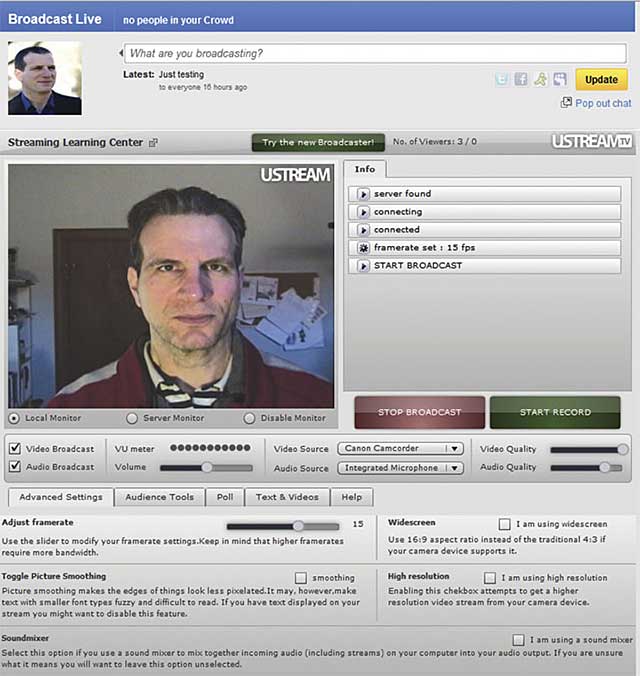 Figure 4. I liked Ustream's browser-based broadcast module.
In addition to broadcasting from the browser, Ustream also offers three desktop applications, Ustream Producer (free), Producer Pro ($199), and Producer Studio ($549), all de-featured versions of Telestream's Wirecast Pro. There's a handy-dandy features table on Ustream's website (www.ustream.tv/producer) that details the differences in the versions.
If you're encoding with Adobe's Flash Media Live Encoder, you can download an XML file with your configuration information; for other encoders, Ustream provides the RTMP URL and Stream Key, which should get you up and running with no problem. Note that you can't produce multiple streams for Ustream to distribute with the browser-based encoder but you can with any Producer version or third-party program that can produce multiple streams, including the Adobe Flash Media Encoder.
After your big event, Ustream provides playback metrics that show unique viewers and viewer hours, as well as the number of highlights created from your videos, the size of your crowd, and the RSVPs received for your events. You can view all metrics in a graph or export the raw numbers as a PDF or CSV file.
Ustream's size allows it to deliver lots of eyeballs to your channel page, if that's what you're looking for, and the site offers competent or better functionality in all critical areas, particularly channel page customization and ecommerce options. The site needs to be on the short list of any organizations seeking an LSSP.
Justin.tv
Justin.tv is a great site for those seeking eyeballs in the gamer/skateboard set, but there's no whitebox version, so you can't eliminate advertising in or around your webcasts. Encoding controls were simple, so it's also a good option for technically unsophisticated users, though video quality was very modest, as were the features surrounding the embedded player, which will not play in iOS devices unless the user buys an app.
CHANNEL PAGE
Justin.tv offers good control over the videos on your channel site, including the ability to password protect them and to prevent others from embedding them or exporting them to YouTube (Figure 5). That said, you can't download your broadcasts, which was a feature offered by most other sites.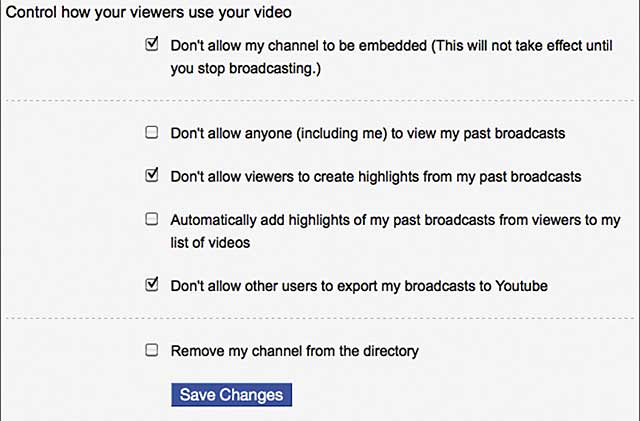 Figure 5. Justin.tv provides good control over videos on your site.
Channel page configuration options are extensive. Chat functions are well-configured, with native chat facility that lets you ban certain words, ban certain chatters, and add a Twitter hashtag to all messages. Additionally, visitors can tweet about the channel page or any specific videos, like the page for Facebook, or spread the word about the video via MySpace or regular email. In addition, if enabled, they can create highlights from your videos, essentially excerpted portions with separate titles and descriptions.
CHANNEL LANDING PAGE
Justin.tv's channel page has good links to social media, but it has lots of ads, and video quality was mediocre using the site's browser-based player (Figure 6). If you try to watch videos on your channel page on an iOS device, you'll get a pitch to buy the required app, but then you can navigate to the full website, where you'll see the video thumbnails. But if you try to play a video, you'll get a Flash error message. The channel site worked fine on my Toshiba Thrive, but that was in Flash, an experience that will degrade over time since Adobe will not continue to advance the Flash player on that platform.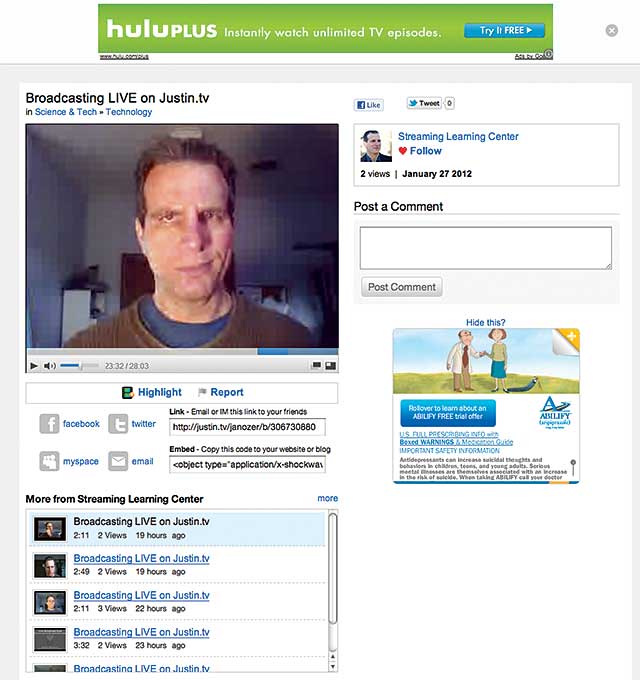 Figure 6. Justin.tv's channel page has good links to social media, but it has lots of ads, and video quality was mediocre using the site's browser-based player.
EMBEDDED PLAYER
Justin.tv's embedded player is a simple player window, with no social media links, branding, or access to older content (Figure 7). You can add a chat window, but as with Ustream, you have to embed the player and chat function separately, and the result is not as compact as other solutions. Other sites offer a lot more here; for example, Ustream lets you choose a video playlist or slideshows to present when you're not broadcasting, and Livestream and Bambuser let you display your entire video library in the embedded player and include links to social media.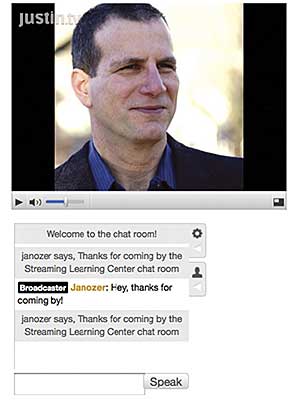 Figure 7. Justin.tv's Plain Jane embedded player is bulky because the player and chat are not integrated.
The embedded Justin.tv player didn't appear in the iPad or iPod touch, which was expected. On the Toshiba Thrive, the thumbnail appeared, and the video played normally. Speaking of embedding, from the broadcast console, you can connect to your Facebook account and embed the video on your wall, to a page, in a group, or on a friend's page.
THE BROADCAST EXPERIENCE
Broadcasting is exceptionally simple. Once you sign up, click Go Live and then click Allow to let Flash player access your camera and microphone (Figure 8) and then click Start. To set up video, you can choose the camera and adjust a bitrate slider with a floating tool tip showing the data rate. You can't directly control details such as resolution, audio bitrate, or configuration, so it's better for newbies than control freaks. With audio, you can choose an input device and adjust volume, with a volume meter to help you make your adjustments.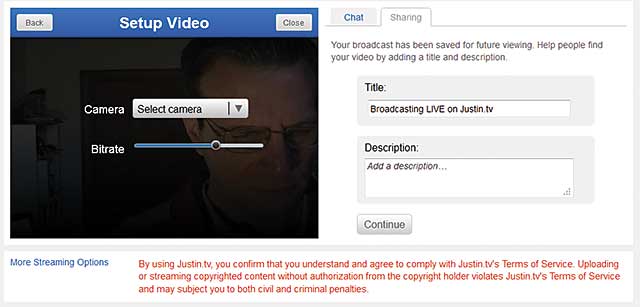 Figure 8. Justin.tv's browser-based capture tool favored ease of use over configurability.
At 500Kbps, the video was noticeably blocky, as you can see in Figure 6. At 700Kbps, video quality improved noticeably, but it was pushing the limits of my outbound DSL, and I experienced significant frame dropping and stuttering. I checked CPU utilization on my HP 8760w EliteBook notebook, which has eight cores with hyperthreading technology enabled, and it maxed out at 9 percent CPU.
Broadcasting to Justin.tv via Telestream Wirecast was simple. Just choose the Justin.tv output setting and enter your username and password; Wirecast logs you right in. It's pretty sweet, and with presets for Livestream, Ustream, and other services, the experience should be similarly polished on those platforms. Not only was Wirecast easy to use, the quality was much better than that produced natively by Justin.tv, most likely because I used the H.264 for Wirecast while the browser-based version uses the Sorenson video codec.
With Flash Media Live Encoder, things are more complex, but Justin.tv has a short tutorial that walks you through downloading an XML configuration file, importing that into Live Encoder, and setting the necessary configuration options. If you choose Justin.tv as your live streaming service provider, consider using a third-party encoding tool that produces H.264, which looked great at 500Kbps. No matter which encoding option you choose, however, you can't produce multiple streams, as that's not a feature offered by the site.
Overall, Justin.tv's clear strengths are its ability to reach young viewers and ease of use, while notable deficiencies include the inability to disable advertisements, an anemic embedded player, and the lack of free iOS playback. While Justin.tv is a wonderfully popular site for its target audience, it wouldn't be my first choice for live streaming facility unless I was trying to reach that audience.
Livestream
Livestream offers a fully featured landing page and embedded player, three free encoding options, and the abilities to upload disk-based video files and import videos from YouTube, which makes it close to a full-service online video platform. Extensive social media support throughout and an impressive metrics package should also place it on the short list of any enterprise seeking a live streaming service provider.
In terms of size, Livestream is one of the top three live streaming service providers, with free service limited to SD resolution at 500Kbps and for-fee packages for HD video starting at $350 per month. The service offers multiple monetization opportunities, including advertising splits and pay-per-view and subscription offerings.
Livestream offers good control over who can view or embed your videos. For example, you can require viewers to input an email address before viewing (though there is no verification) and/or require password protection. You can also remove your site from the Livestream Channel Guide, limiting visibility and access even further, and limit embedding to specified URLs.
CHANNEL PAGE
Livestream's channel page is feature-rich and highly configurable, with the ability to control almost every item that appears on the page (Figure 9). You can upload a banner logo and set the target URL, upload a custom watermark for displaying over the video, schedule upcoming events, and use a native chat function, with moderation, or Facebook and Twitter chat.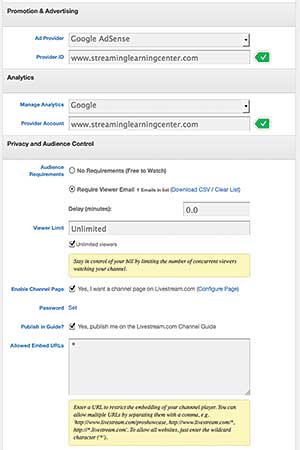 Figure 9. Livestream's landing page options
Other social media support on the channel page is extensive and configurable. As with Ustream, viewers can embed video into their Facebook walls so that it plays in Facebook, rather than simply providing links to external channel pages. Your viewers can also post links to the videos in Twitter and MySpace and via email; they can leave comments via Facebook, so their comments get posted to their walls and your channel page simultaneously (Figure 10).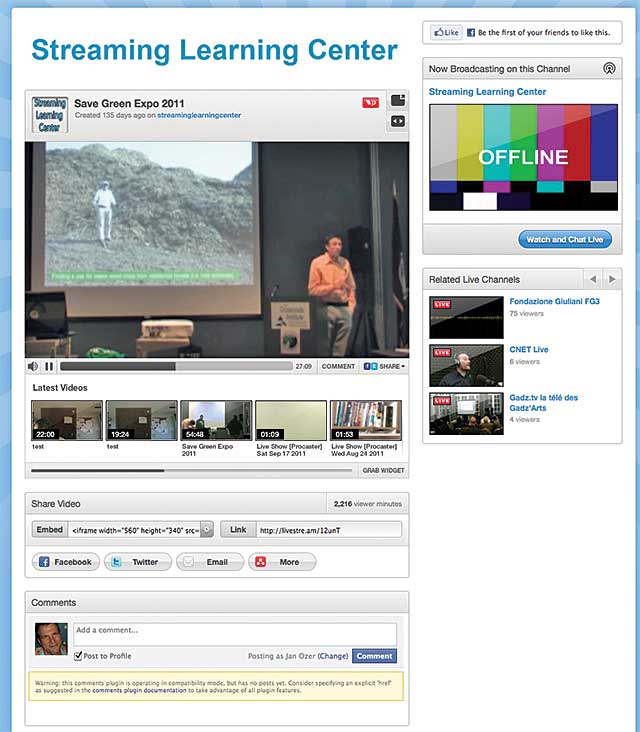 Figure 10. The Livestream channel page
All that said, Livestream lacks some features offered by other services, such as Ustream's ecommerce-related extensions or the ability for viewers to post video comments. While the most configurable, Livestream isn't the most feature-rich, though it is close to the top.
In operation, the channel page worked as expected on the desktop and on my iPad. On the iPod touch, it was too small for use, so viewers would be better off downloading the free app. On the Android-based Toshiba Thrive, the page looked normal, but all video playback was at full screen.
EMBEDDED PLAYER
Like Bambuser, Livestream offers a compact player with all the required features, including access to the video library and chat, customizable size, and full pre-embed preview, so you can see what you're getting before you embed it (Figure 11).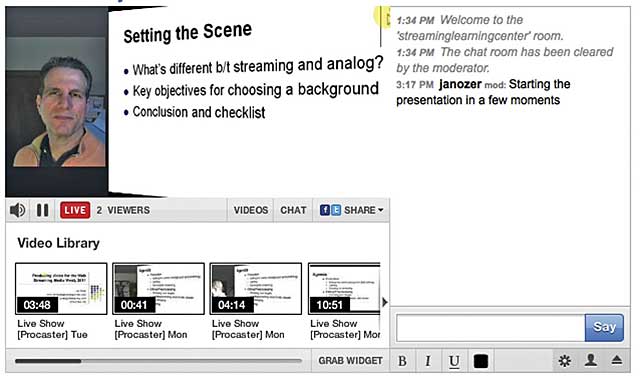 Figure 11. The embedded player, showing a view of Procaster desktop streaming with the video shown in 3D mode
Note that the embedded player only displays this way on the Flash platform. On both iOS devices and the Toshiba Thrive, when I wasn't broadcasting, the embedded player appeared as a black box with color bars and a message: "This channel is not live. Only live streams and mobile compatible video clips appear on mobile devices." Also, the video library was not accessible.
BROADCASTING LIVESTREAM
Livestream offers three free encoding tools, the browser-based Webcaster and Studio encoders, and Procaster, a desktop application available on Windows and the Mac. Webcaster is based on the Flash Player and provides three video presets, Low, Medium, and High, but the data rate and resolutions aren't specified or controllable, which is frustrating when you're trying to stream via bandwidth-limited connections. Webcaster also provides access to chat and social media links, so you can broadcast and promote from a single interface.
Studio is much more comprehensive than Webcaster, with the ability to mix live and on-demand content, switch between multiple live cameras, and cue multiple on-demand clips for 24/7 playback. This is especially alluring given Livestream's rare ability to import disk-based files and files from YouTube. But be advised: Studio is complex and difficult to learn. Like Webcaster, Studio doesn't produce mobile-compatible streams.
The final tool is Procaster, which produces higher-quality video than the other two encoders and offers the ability to produce multiple streams for desktop and mobile playback (Figure 12). Delivery isn't truly adaptive; rather, it's YouTube-style bitrate selection on the desktop and a single stream for mobile. Still, it enables the use of H.264 compression with direct control over frame rate, data rate, and resolution, which is rare in this product category and obviously useful.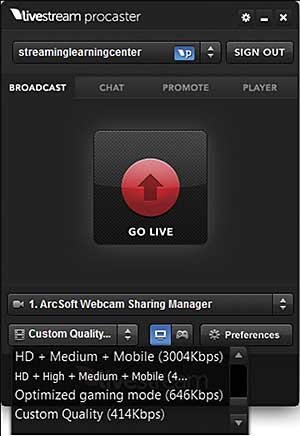 Figure 12. Livestream's Procaster can produce multiple streams, including a stream for mobile delivery.
In addition, one useful feature for the PowerPoint or software demo crowd is Procaster's ability to broadcast a screen, either stand-alone or with a 2D or 3D video insert, such as that shown in Figure 3. Also, during a broadcast, Procaster provides continual feedback regarding the event, with a status box telling you the frame rate, data rate, CPU utilization (less than 11 percent on my HP 8760w), and a warning if either CPU utilization goes too high or if encoded frames get backed up while pushing them to the server.
METRICS GALORE
Livestream provides comprehensive channel metrics, including the number of daily unique viewers and viewer minutes, daily streams, and daily peak viewers, as well as views by video title, the geolocation of your viewers, and the location of your embedded players and referrers. All reports can be customized for a particular date range and can be printed and exported into PDF.
In its current iteration, Livestream does a very competent job in all critical areas and should be strongly considered by any organization seeking an LSSP, whether looking for eyeballs, a strong embedded player, or both. In April 2012, Livestream will roll out a new platform that enhances the live feel of any streamed event, with the ability to blog and upload pictures and videos to the channel page in real time, before, during, and after the event. It will also enable true adaptive streaming for Flash and HLS-compatible mobile devices.
Bambuser
Bambuser's strengths include overall ease of use, support for more than 300 mobile devices for broadcasting and playback, the ability to deliver multiple video streams, and a compact embedded player. On the other hand, Bambuser lacks the traffic offered by Ustream, Justin.tv, and Livestream, making it a bad choice if you're hoping your LSSP can direct eyeballs to your videos. Also, Bambuser generally offers fewer features than these other sites.
Bambuser's channel page is plain and non-configurable but functional (Figure 13). The default view is a world map that shows the location of the broadcaster, which is unique and kind of fun. Other tabs show basic site information such as location and owner, comments from viewers, and sharing functions, which includes posting a link to Facebook, Twitter, and several other services, as well as chat. The channel page also provides access to all archived videos, plus live videos from other Bambuser broadcasters.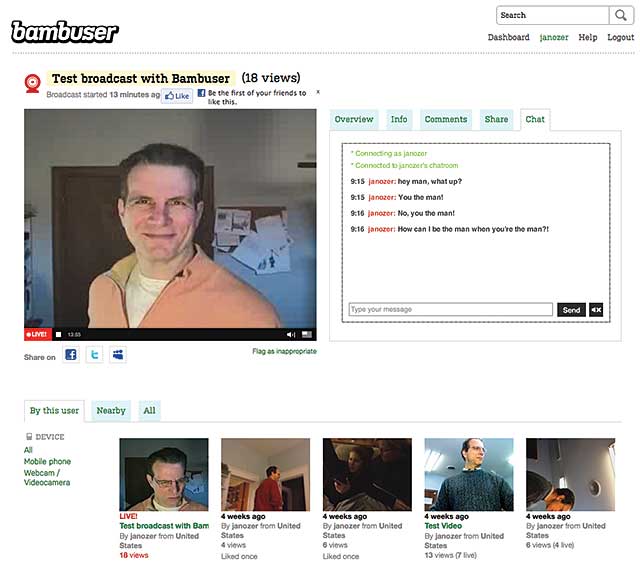 Figure 13. Bambuser's channel page
Bambuser's access control is very limited; videos are either public, where anyone can watch them, or private, where only you can watch them, but nothing in between. Other sites offer the ability to password protect videos, which would have been useful. Other sites also offer more established programs for pay-per-view and subscription offerings, so Bambuser shouldn't be your top choice if you're seeking to monetize your video.
Bambuser's embedded player is compact and competent, packing a relevant range of features into a tight space that will fit neatly into a webpage. You can customize the size to your liking and choose to include or exclude features such as a Facebook Like button, sharing options, access to archived content, and basic account information (Figure 14). A preview mode makes it easy to see which options you're selecting.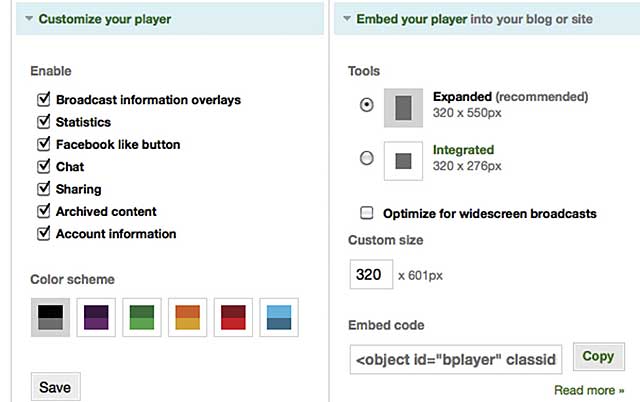 Figure 14. Bambusers' embedding options
However, Bambuser doesn't offer advanced features such as Ustream's extensions or the ability to schedule broadcasts. Bambuser also can't match features such as accessing Facebook and Twitter chat during your broadcasts, which several other services offer, and it can't embed a player in Facebook to play video there — you can only provide a link within Facebook.
BROADCASTING WITH BAMBUSER
Bambuser's browser-based broadcast console is easy to use but lacks features such as the ability to specify an outbound audio and video data rate, which is essential to a smooth live streaming performance. As you can see in Figure 15, you also have a volume control, frame rate control, and access to chat, as well as sharing options.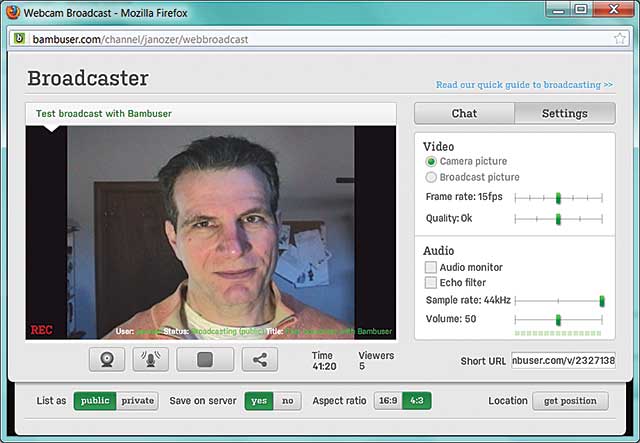 Figure 15. Bambuser's web-based broadcast module
The embedded player (Figure 16) worked well during playback on my desktop computer and Toshiba Thrive, but the Flash-drive player didn't appear on my iPad or iPod touch device, though Bambuser should be offering HTML5 embed codes soon. The videos did play on my iOS devices from the channel page on Bambuser. On all platforms, the video played with minimal latency, but video quality was marred by faint blockiness throughout, which I saw in all video created using Flash Player-based browser encoder.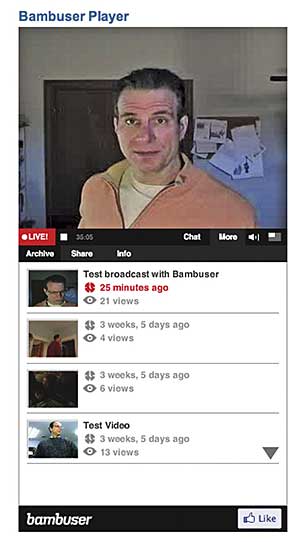 Figure 16. Bambuser's compact and efficient embedded player
Seeking improved quality, I went to Bambuser's channel page, which has clear instructions for working with third-party tools such as the Adobe Flash Media Live Encoder and Telestream Wirecast. Specifically, you can download an XML file from your channel page to import the tools that provide all the necessary login credentials and server addresses. After that, it's business as usual; choose your audio and video sources and start the broadcast.
Video quality was noticeably better using the H.264 codec available in both Wirecast and Flash Media Live Encoder, plus you get much more precise controls for audio and video bandwidth. If you choose Bambuser as your live streaming service provider, you should definitely consider using one of these third-party tools.
Since one of Bambuser's key strengths is mobile-based broadcasting, I ran some quick tests using the company's iPhone/iPod touch app (Figure 17). Once I got the free app downloaded and logged in, broadcasting was quite simple. In addition, unlike most other services, if you're broadcasting over bandwidth limited pipes, Bambuser captures the video on your mobile device at full quality and can upload the higher-quality file after the broadcast is complete. That way, you have a high-quality version to serve as your on-demand file.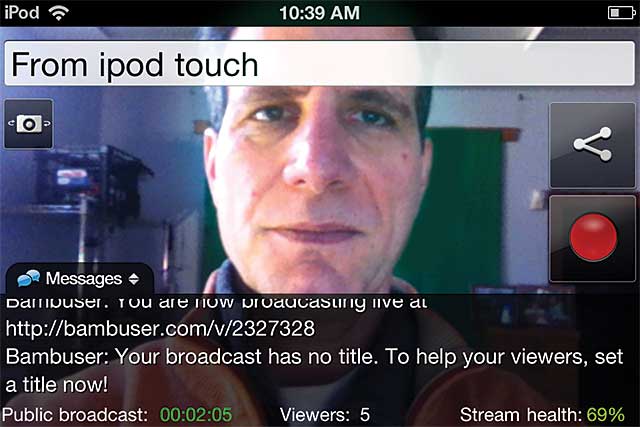 Figure 17. Broadcasting from Bambuser's mobile player was quite simple.
On the other hand, Bambuser lacked features such as polling and chat, which were available on Ustream's iPhone app, though how you could shoot video on an iPhone and chat at the same time is totally beyond me (you probably need to be a teenager to accomplish that).
Consider Bambuser for your live broadcasts if you need extensive mobile support, which Bambuser lists at http://bambuser.com/phones. It's also a good choice for those looking for overall ease of use, since the relative lack of features does translate into a cleaner interface with fewer options. Avoid Bambuser if you're seeking eyeballs or established programs for video monetization.
Ustream

Live streaming video by Ustream
Livestream – New
YouTube