I recently posted a request for video test clips on LinkedIn. This article summarizes the websites listed in the responses. Thanks to all who responded.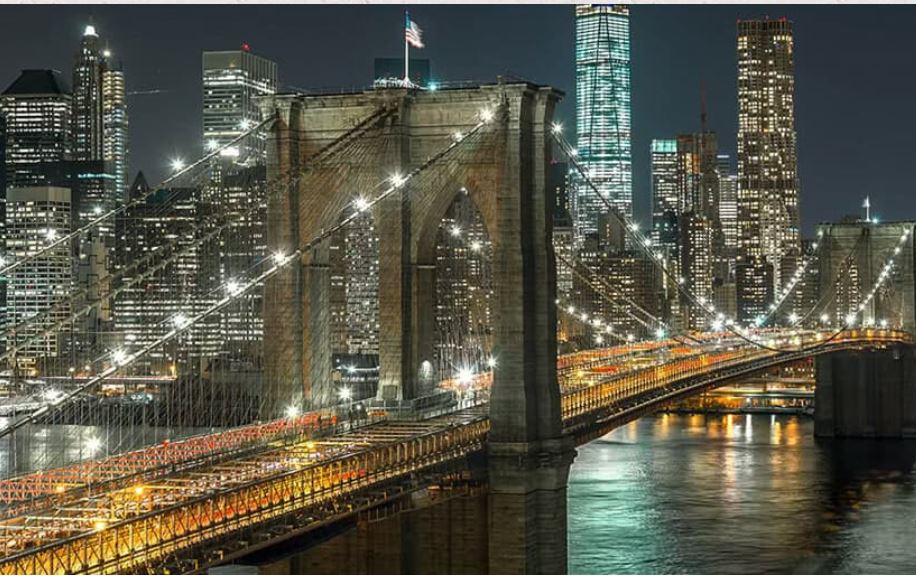 An absolutely fabulous resource for compressionists looking for a broad range of 4K footage of reasonable duration, many, like this NY promotional clip, in HDR. Here's the site description.
4KMedia.org is intended to demonstrate the latest in video content evolution and technology. This content includes encoding technologies, 4K Ultra-HD (UHD), High Dynamic Range (HDR), higher frame rates, and greater bit depths. 4K Media seeks to facilitate the evolution of the video-content industry by allowing this content to be used freely for testing, demonstrations, and advancement of technology.
I will be using a lot of clips from this source going forward.
3GPP DASH sequences  – multiple very short (10 seconds or so) test clips in up to 10-bit 4k). Very good mix of footage from humans to text to gaming.
(i)
Original dataset
. This is one of the first (if not the very first) DASH dataset comprising video sequences of different genres with resolutions up to 1080p encoded with AVC and packaged with DASH (bitrate ladder with 20 representations and segment lengths of 1s, 2s, 4s, 6s, 10s, 15s).
(ii)
multi-codec dataset
. An extension of the original dataset comprising multiple codecs, i.e., AVC, HEVC, VP9, and AV1, with a single MPD for multi-codec testing purposes (resolution up to 4K, segment lengths 2s and 4s).
American Society of Cinematographers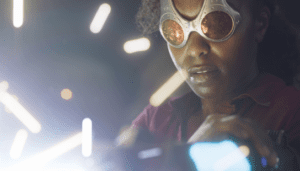 STEM2 Video test file from the American Society of Cinematographers is available in various high-quality formats.
The American Society of Cinematographers – Stem2 – (from the site): "A short film created by the American Society of Cinematographers Motion Imaging Technology Council designed to be used as reference material and stress testing for color pipelines, image processing, monitors and projection systems. Supplied in various image formats including high dynamic range (HDR), high resolution, and wide color gamut." Like Meridian, but longer and more varied.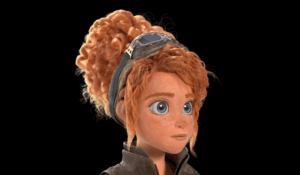 The American Society of Cinematographers – Other content is available on the American Society of Cinematographers website, like the character above, a completely animatable main character represented in Maya, with rig, geometry, textures, and hair groom. Also includes a useful mix of primitives from different production mediums.
American Society of Cinematographers Digital Product Example Libraries – A list of production libraries and content from various sources, including Disney, Amazon, Epic Games, Sony, Pixar, and many others. Links to other sites, including many listed on this page. A great place to check for high-quality test content available in pristine production formats.
A pretty awesome list of video-testing tools and video-test clips. For example, I found the 4K Media site on this list, and there are many others that I didn't present separately here.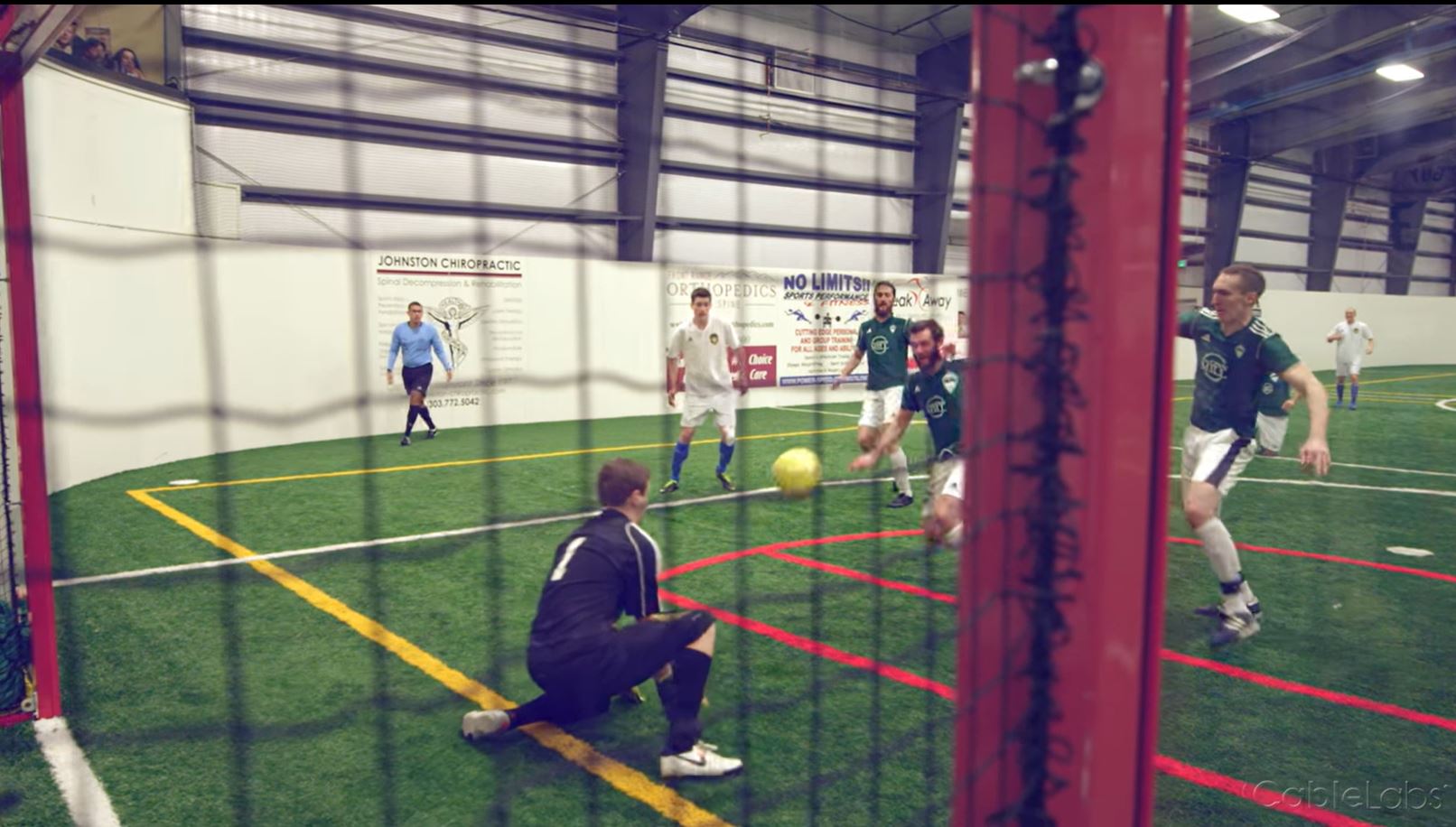 Another fabulous site of about ten ultrahigh quality movie-like clips of moderate duration (3-5 minutes). Downloadable in ProRes format in various HDR formats, with many at 98 fps. Here's a description from the site.
"This website is dedicated to providing video content for free under the Creative Commons License. It is intended to showcase cutting-edge filming techniques, ultra-high resolution, expanded color spaces, high dynamic range, and more. Consumers, distributors, and vendors can use this content for demonstrations, testing, and entertainment purposes."
Here's the description:
CDVL is a digital video library intended for researchers and developers in the fields of video processing and visual quality (both objective and subjective assessment). Progress in these areas has been limited by the availability of high-quality royalty-free test material. CDVL provides relevant video clips for different types of video processing and quality measurement applications. This fills a critical industry need.
From a colleague on LinkedIn: "The CDVL (https://www.cdvl.org/) archive is unique and super helpful if you are looking for public safety-specific sequences. It's a niche, but if you are in the business of developing surveillance systems, it is critical to use domain-relevant material (which is quite specific for public safety, e.g., flashing strobes on a police car) vs. Hollywood or talking-head material."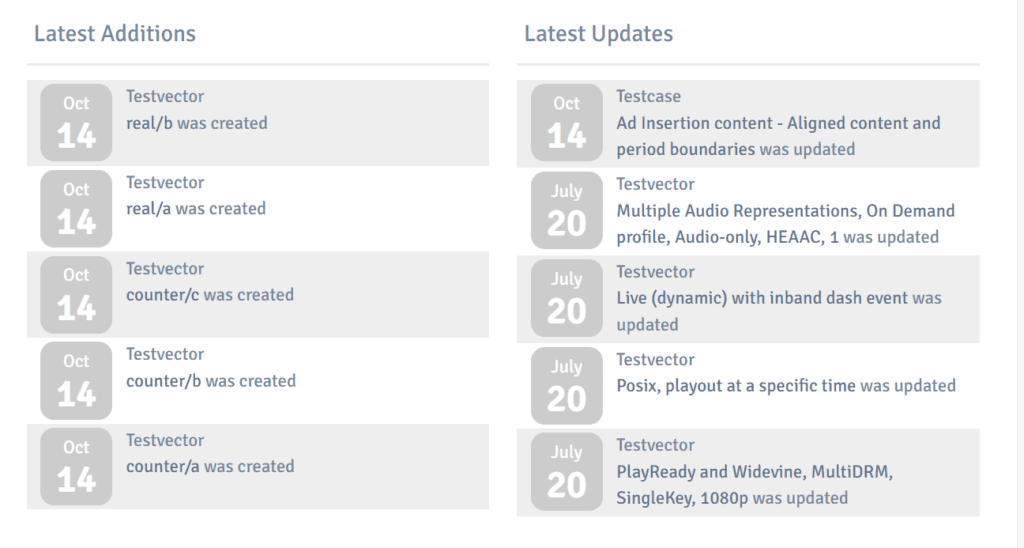 DASH IF Test Assets Database: An invaluable site for those testing particular DASH-related features. This is from the site:
The goal of the DASH-IF Testvector database is to allow a dynamic management of the test vectors provided by the DASH Industry Forum. This includes:

Categorized DASH-IF features and feature groups
Test cases for the individual features.
Test vectors for the test cases.
Dynamic management of the attributes all the models
Other DASH Datasets are:
ITEC – Dynamic Adaptive Streaming over HTTP
Here's the description:
Here we offer three datasets. The first dataset conforms to the newest version of the MPEG-DASH standard. The second dataset provides content encoded using Scalable Video Coding (SVC) and provides MPDs according to the newest version of the MPEG-DASH standard. The third dataset was created by Stefan Lederer and is still listed here for compatibility with the VLC Plugin.
ITEC – Dynamic Adaptive Streaming over HTTP
Multi-Codec Ultra High Definition 8K MPEG-DASH Dataset:
Derf's Test Clips/Xiph.org Video Test Media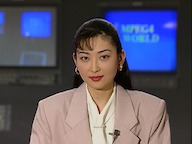 Derf's Test Clips – Officially Xiph.org Video Test Media [derf's collection]. An amazing range of test clips from the iconic Akiyo and Forman to most of Twitch's game videos and Netflix test sequences, plus Big Buck Bunny, Meridian, and an Amazon HDR education test reel. Generally, the best first stop for anyone searching for useful test clips.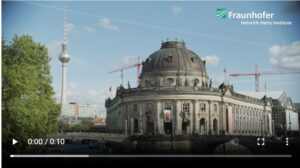 Fraunhofer HHI made a set of seven 8K sequences publicly available. The sequences were taken in fall of 2019 at different venues in Berlin. Each sequence comes in a BT.2020 SDR and a BT.2100 PQ HDR version. A fabulous resource for those seeking multiple 8K videos in SDR and HDR versions, though the range of content is limited.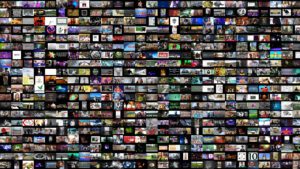 This YouTube dataset is a sampling from thousands of User Generated Content (UGC) uploaded to YouTube and distributed under the Creative Commons license. This dataset was created to advance video compression and quality assessment research of UGC videos.
Regarding quality, the site states that users and creators upload UGC videos. These videos are not always professionally curated and often suffer from perceptual artifacts. For the purpose of this dataset, we've selected original videos with specific and sometimes substantial perceptual quality issues, like blockiness, blur, banding, noise, jerkiness, and so on.
A great site for those researching issues relating to UGC quality, but otherwise limited for most video quality testing.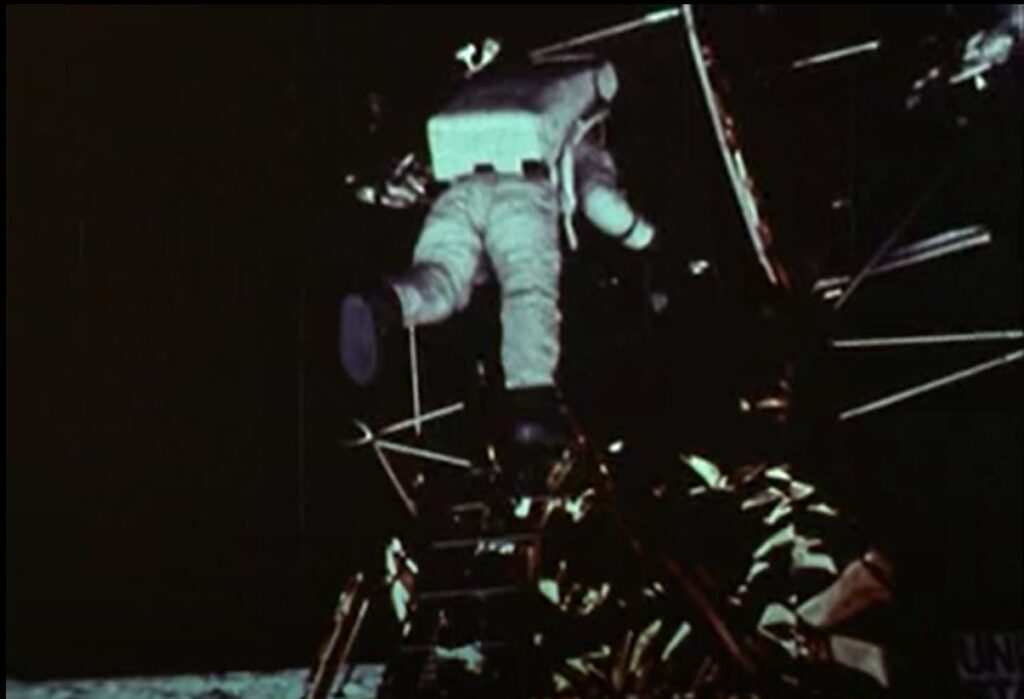 Got some extra time? Over 9.7 million videos are in this collection, including movies, TV programs, news programs, and other assorted content. Well-indexed and highly searchable, better for documentary producers than codec testers. A national treasure.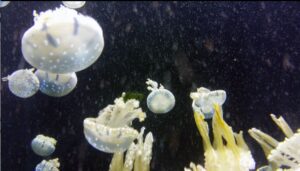 This site includes just a single video of a jellyfish shown above, but it's encoded into dozens of bitrates, codecs, codec profiles, and color depths, from 1080p @ 3 mbps in H.264, HEVC, and 10-bit HEVC, to 4K video available in the same codecs at up to 400 Mbps. This is a fabulous resource if you need this range of sampling and don't want to create it yourself.
Netflix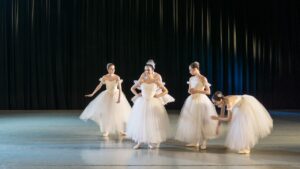 Netflix Open Source Content – Multiple downloadable test clips, including Sol Levante, Nocturne, Sparks, Meridian, Cosmos Laundromat, Chimera, and El Fuente, available in a range of very high-quality formats, including 4K and larger, HDR, and ultra-high frame rate (120 fps) content. Very good source for high-quality video in very advanced formats.
Netflix Public Data sets – Links to two sample datasets, including the video files and the properly formatted dataset files in Python, that can be used as sample datasets to train and test custom VMAF models. The datasets are the Netflix dataset and the Video Quality Expert Group data set.
Multiple links to organizational libraries of primarily specialized footage, like eye tracking and DASH streaming data sets. Well described by the Qualinet indexers. A great list of content sources that includes most of those listed here and many more. 
SJTU MediaLab (Shanghai Jiao Tong University)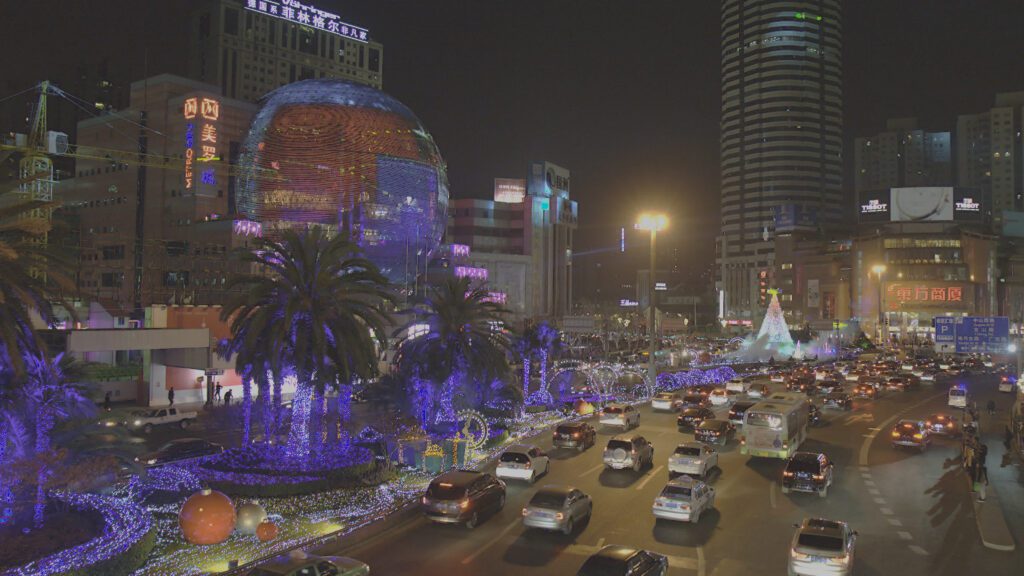 SJTU offers six clip databases, a viewpoint RGB-D video dataset, 8K 360-degree video sequences, real-world video dataset, 4K HEVC video subjective quality database, HDR video sequences, and 4K video sequences. Very useful if you're looking for a 4K collection of challenging clips to test advanced codecs.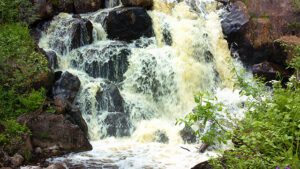 Multiple test clips from 2006 (including CrowdRun) and 2022, all professionally shot and produced. Very good quality but limited to mostly water and other nature shots. Not a very diverse data set.
Ultra Video Group Dataset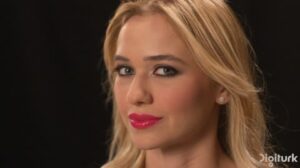 The open Ultra Video Group (UVG) dataset comprises 16 versatile 4K (3840×2160) test video sequences captured at 50/120 fps. All sequences are available under a non-commercial Creative Commons BY-NC license. Some commonly known clips include Bosphorus, HoneyBee, RaceNight, and Jockey. A good mix of clips available in various formats and codecs, all up to 4K 10-bit.
This site includes multiple databases typically used to study QoE and quality assessment more than codec comparisons. Here's the description of the LIVE Netflix Video Quality of Experience Database –
"The newly created LIVE-Netflix Video Quality of Experience database consists of 112 distorted videos evaluated by over 55 human subjects on a mobile device. We hope that the database will be useful in designing general QoE-aware objective prediction models and developing tools to create perceptually optimized network allocation protocols."
If you're performing research and testing on these topics, the datasets could be very useful.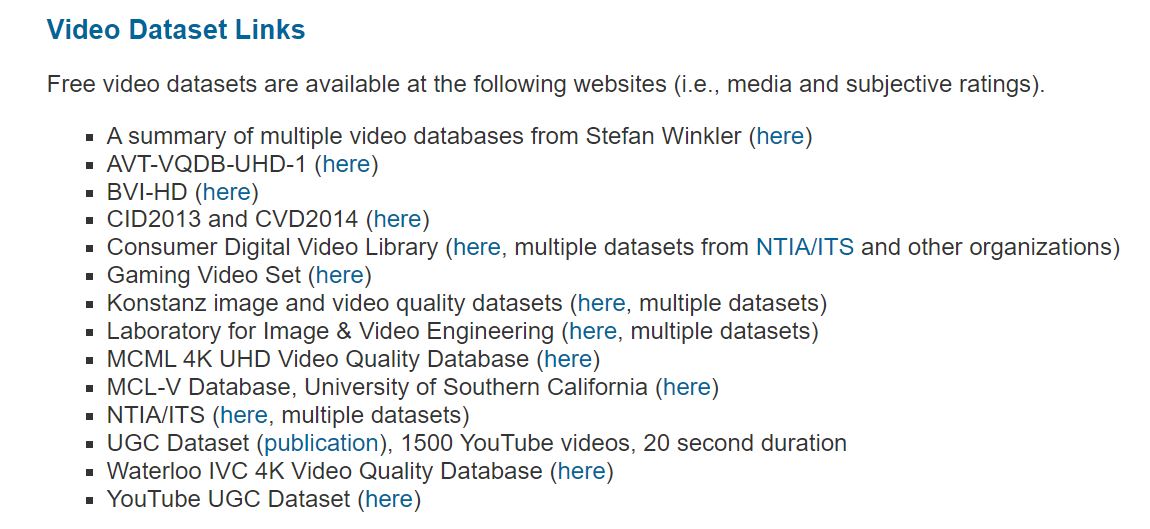 Provides another list of free content sources, including many included above. Includes links to the RED digital camera site, NASA, Elecard video sequences, and several others.