If you have a camcorder at any enterprise, institutional, or even social event, you should consider streaming that event live. Live streaming can be free or relatively inexpensive, and live streaming services like Ustream, Justin.tv, Livestream and Bambuser, are all reasonably easy to use. This series will take a closer look at each service, beginning today with Livestream. 
All live streaming services providers share three main components: a channel page, an embeddable player, and encoding options, and these are the three areas I focused on in the reviews to follow. The channel page is the page on the service's website where viewers go to watch your videos. This is obviously most important to organizations that want the bulk of their views to come on the channel page, as opposed to an embedded player on your own or a third-party site. 
When comparing the channel pages, I looked at page configurability, monetization options, the number of eyeballs that the streaming service could direct to your video, social media options, and the playback experience on iOS and Android devices. For those who want to control the distribution of their videos, I also looked at the access control options available for each site, and alternatives for moderating or otherwise controlling chat and comments. 
Regarding the embedded player, I looked at how the feature set compared to the channel page; for example, could you access the same level of chat and social media-related functions and your video library. I also looked at how the embedded player performed on Android and iOS devices, and whether the site could embed a video feed into Facebook, as opposed to providing a link back to the channel page. 
All live streaming service providers offer browser-based encoding tools driven by the Adobe Flash Player, which provided ease of use but universally poor quality since Flash Player uses very outdated codecs. So here I looked at the feature set and ease of use of other encoders offered by the site, as well as how easy the service made it to use third party encodes like the Adobe Flash Media Live Encoder and Telestream's popular Wirecast.
Livestream
Livestream offers a fully-featured landing page and embedded player, three free encoding options, and the ability to upload disk-based video files and import videos from YouTube, which makes it close to a full-service online video platform (OVP). Extensive social media support throughout and an impressive metrics package should also place it on the short list of any enterprise seeking a live streaming service provider. 
In terms of size, Livestream is one of the top three live streaming service providers, with free service limited to SD resolution at 500 kbps and for-fee packages for HD video starting at $350/month. The service offers multiple monetization opportunities, including advertising splits and pay per view and subscription offerings. 
Livestream offers good control over who views or can embed your videos. For example, you can require viewers to input an email address before viewing (though there is no verification), and/or require password protection. You can also
remove your site from the Livestream Channel Guide, limiting visibility and access even further, and limit embedding to specified URLs.
Channel Page
Livestream's channel page is feature rich and highly configurable, with the ability to control almost every item that appears on the page. You can upload a banner logo and set the target URL, upload a custom watermark for displaying over the video, schedule upcoming events, and use a native chat function with moderation, or Facebook and Twitter chat.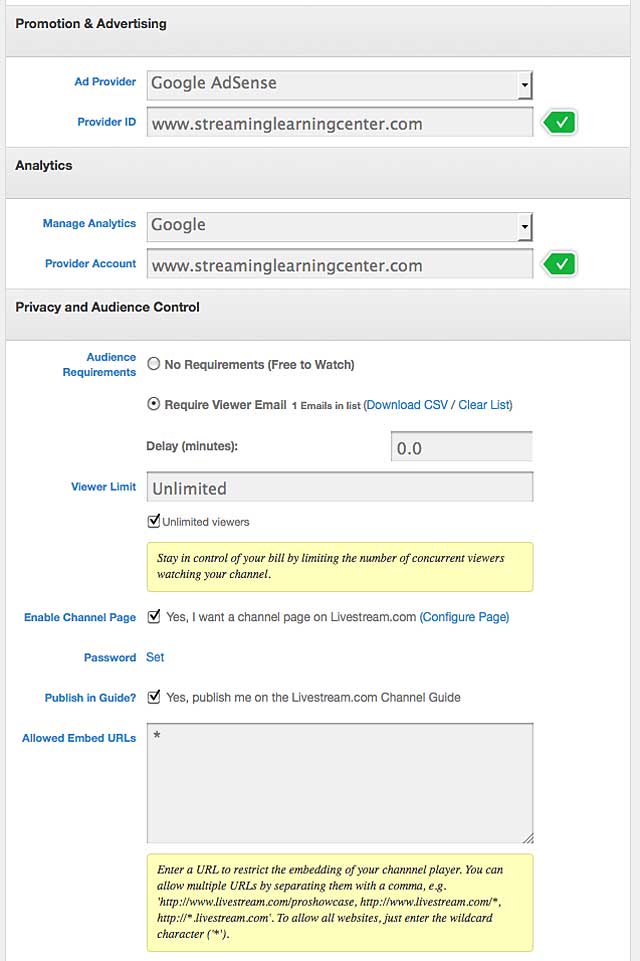 Figure 1. Livestreams landing page options.
Other social media support on the channel page is extensive and configurable. As with Ustream, viewers can embed video into their Facebook walls so that it plays in Facebook, rather than simply providing links to external channel pages. Your viewers can also post links to the videos in Twitter, MySpace, and via email, and leave comments via Facebook, so their comments get posted to their walls and your channel page simultaneously.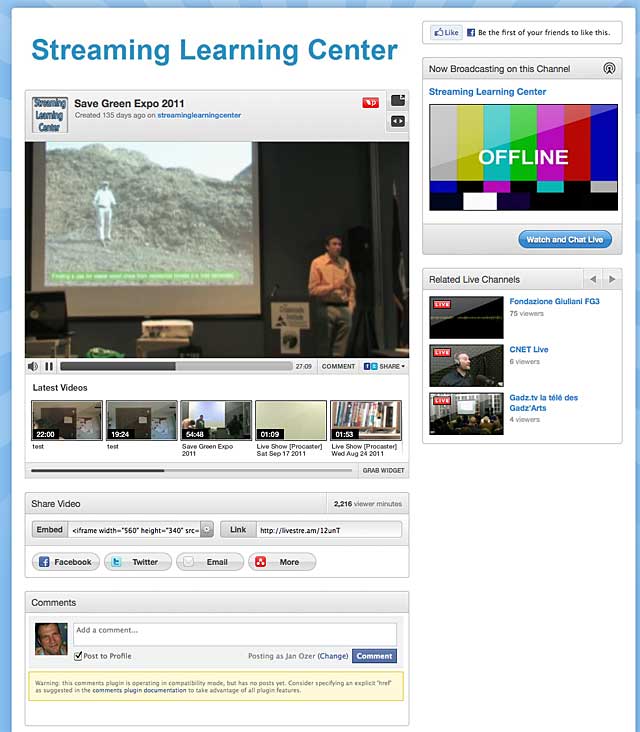 Figure 2. The Livestream channel page.
All that said, Livestream lacks some features offered by other services, like Ustream's e-commerce-related extensions or the ability for viewers to post video comments. While the most configurable, Livestream isn't the most feature rich, though is close to the top. 
In operation, the channel page worked as expected on the desktop and on my iPad. On the iPod touch, it was too small for use, so viewers would be better off downloading the free app. On the Android-based Toshiba Thrive, the page looked normal, but all video playback was at full screen. 
Embedded Player
Like Bambuser, Livestream offers a compact player with all the required features, including access to the video library and chat, customizable size and full pre-embed preview, so you can see what you're getting before you embed it.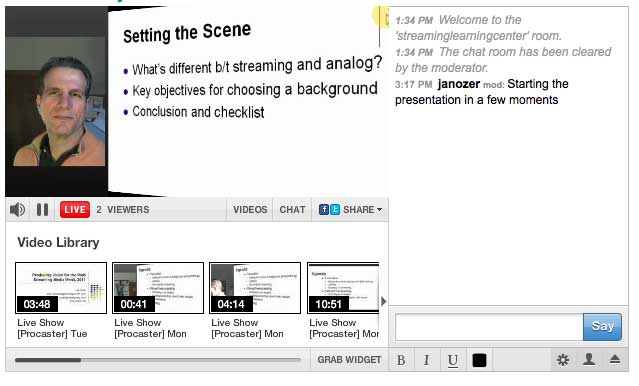 Figure 3. The embedded player, showing a view of Procaster desktop streaming with the video shown in 3D mode. 
Note that the embedded player only displays this way on the Flash platform. On both iOS devices and the Toshiba Thrive, when I wasn't broadcasting, the embedded player appeared as a black box with color bars and a message "This channel is not live. Only live streams and mobile compatible video clips appear on mobile devices," and the video library was not accessible. 
Broadcasting Livestream
Livestream offers three free encoding tools, the browser-based Webcaster and Studio encoders, and Procaster, a desktop application available on Windows and Macintosh computers. Webcaster is based on the Flash Player and provides three video presets — Low, Medium, and High — but the data rate and resolutions aren't specified or controllable, which is frustrating when you're trying to stream via bandwidth limited connections. Webcaster also provides access to chat and social media links so you can broadcast and promote from a single interface. 
Studio is much more comprehensive than Webcaster, with the ability to mix live and on-demand content, switch between multiple live cameras, and cue multiple on-demand clips for 24/7 playback. This is especially alluring given Livestream's rare ability to import disk-based files and files from YouTube. Be advised, however, that Studio is complex and difficult to learn. Like Webaster, Studio doesn't produce mobile compatible streams.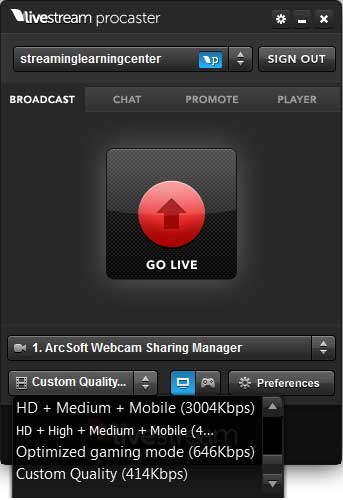 Figure 4. Livestream's Procaster can produce multiple streams, including a stream for mobile delivery. 
The final tool is Procaster, which produces higher quality than the other two encoders and the ability to produce multiple streams for desktop and mobile playback. Delivery isn't truly adaptive; rather, it's YouTube-style bitrate selection on the desktop and a single stream for mobile. Still, it enables the use of H.264 compression with direct control over frame rate, data rate, and resolution, which is rare in this product category and obviously useful. 
In addition, one useful feature for the PowerPoint or software demo crowd is Procaster's ability to broadcast a screen, either standalone or with a 2D or 3D video insert, like that shown in Figure 3. Also, during a broadcast, Procaster provides continuous feedback regarding the event, with a status box telling you the frame rate, data rate, and CPU use (under 11 percent on my HP 8760w), and warning you if either CPU use goes too high or encoded frames get backed up while pushing them to the server. 
Metrics Galore
Livestream provides comprehensive channel metrics, including the number of daily unique viewers and viewer minutes, daily streams, and daily peak viewers, as well as views by video title, the geolocation of your viewers, and the location of your embedded players and referrers. All reports can be customized for a particular date range and can be printed or exported into PDF format.
In its current iteration, Livestream does a competent job in all critical areas and should be strongly considered by any organization seeking an LSSP, whether they're looking for eyeballs, a strong embedded player, or both. In April, 2012, Livestream will roll out a new platform that enhances the live feel of any streamed event, with the ability to blog and upload pictures and videos to the channel page in real time, before, during, and after the event. It will also enable true adaptive streaming for Flash and HLS-compatible mobile devices.