So, Adobe announced that it will showcase Production Premium Creative Suite 6 at NAB prior to its official release sometime in the first half of 2012. What's in it for you and me? Well, I worked on my first job with the beta and received a briefing from the company, and here are my high level observations regarding the Premiere Pro bundle. I'll keep this brief and hit the high notes, and hopefully convince my editors to support a more lengthy first-look review with benchmark testing.
First of all, the bundle still includes Encore and Adobe Media Encoder, but not OnLocation, which has been totally dropped from the suite. Judging from Premiere Pro's new appearance, the new version appears to be focused on luring editors from Avid, as the new default interface looks an awful lot like Avid's Media Composer (Figure 1). Adobe also changed the default keyboard shortcuts, reportedly to make them more efficient for the keyboard related trimming discussed below. Fortunately, you can switch back to the CS 5.5 workspace and change back to the CS 5.5 keyboard shortcuts with just a few keystrokes.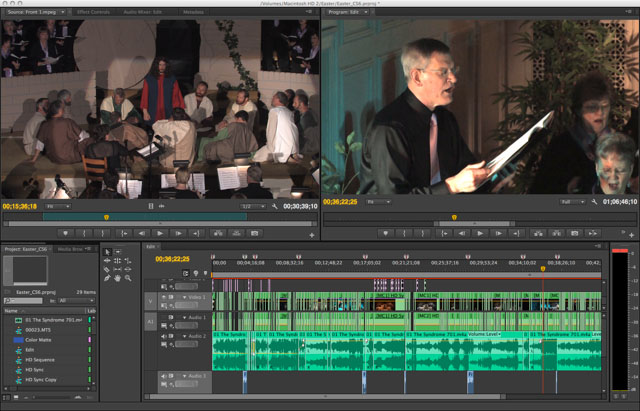 Figure 1. The new Avid-style two window interface. Fortunately, you can switch back to the CS5.5 interface and keyboard shortcuts.
For me, the biggest new feature in Premiere Pro is the unlimited multiple-camera interface. The project that I edited in CS6 was a local church's Easter production involving three HDV cameras, one DSLR, and one graphics tracks, along with 5 audio tracks. As you can see in Figure 2, Premiere Pro reconfigured the Multi-Camera interface to accommodate the five tracks, and from there it was business as usual. Adobe did not add automatic audio-based syncing found in Apple's Final Cut Pro X, but Singular Software's PluralEyes software will be available for CS6 when it's released, though it wasn't for my testing.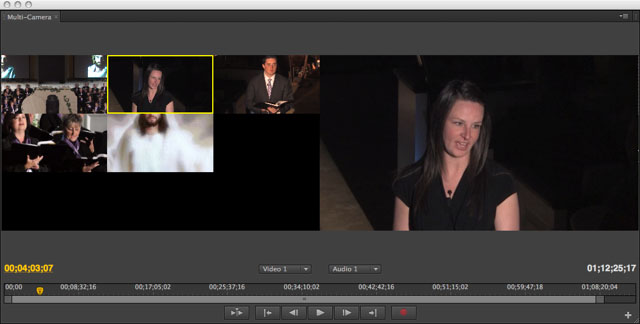 Figure 2. You can now display an unlimited number of tracks in Premiere's multi-camera monitor.
Otherwise, in the Project window, you can now view your content as thumbnails, and—reminiscent of FCPX—play the clips in the Project window and set in and out points. Then you can select multiple clips and drag them into the timeline to create a rough cut.
Beyond this, the interface is much more configurable, so you can choose the button icons that appear around windows and other panes, though jog and shuttle controls seem gone from most playback windows. One new control is the Play Around icon. When pressed, this starts playback a few moments before the current edit point, looping if you have that control selected. Using new keyboard based shortcuts or traditional mouse controls, you can then adjust the edit point while the video continues to play, a nice enhancement over previous versions where preview stopped each time you made an edit.
This behavior is called uninterrupted playback, and it happily pervades CS6 operation, keeping the video playing while making trims, applying color correction and other effects, resizing panels, or even clicking outside the Premiere Pro workspace. Previously, inadvertent clicks around the interface stopped playback, invariably when you didn't want it to. Uninterrupted playback is a nice, subtle improvement that most users will immediately appreciate.
To finish up in the trimming arena, Adobe also added a Avid-inspired trim window with even more precision controls. This is shown in Figure 3. 

Figure 3. Premiere's new Trim Window. Yeah, I overcooked the exposure on the DSLR, but that DOF is gorgeous. Click the + button on the lower right to configure player controls.
Adobe also added adjustment layers which, as in Photoshop and After Effects, let you apply effects to all clips located beneath the adjustment layer. You can also create masks to adjust specific regions in a clip, which is a function that I've wanted for many versions. Also new are gestural controls for Mac trackpads or notebooks, and—this is huge—OpenCL support. Now MacBook Pro notebook owners can access GPU acceleration and rendering even if they're equipped with non-NVIDIA graphics chipsets.
New effects include the Warp Stabilizer for stabilizing shaky footage. I supplied some test footage during development of this effect but haven't checked out the final result, though it's reportedly both exceptionally configurable and effective. There's also a Rolling Shutter repair effect for those shooting with DSLRs and camcorders with CMOS sensors. At the other end of the spectrum, high-end producers will appreciate native support for the ARRI Alexa, RED SCARLET-X and EPIC, and the Canon EOS C300.
Adobe tweaked color correction controls, but more importantly brought Adobe SpeedGrade into the Production Premium family, though not bundled with the standalone version of Premiere Pro. Adobe acquired SpeedGrade from developer IRIDAS in September, 2011, and is making it part of the Creative Suite with this release. I didn't get a chance to play with the new software, but it appears functional and relatively easy to use.
Otherwise, there are lots of performance enhancements to Premiere Pro, which I'll describe in more detail if and when I test them in a full review.
Video 1. In this short video, Adobe product manager Al Mooney shows the highlights of Premiere Pro CS6.
Also new to the suite, and not bundled with the standalone version of Premiere, is Adobe Prelude, a Lightroom-inspired tool for ingesting file-based footage and transcoding to an intermediate format if desired. Once in Prelude, you can add metadata to the footage, mark in and out points, and assemble a rough cut for exporting into Premiere Pro, which is shown in Figure 4. I'll withhold judgement on Prelude until I get to spend some time with the program; Since Premiere Pro can perform lots of the same functionality, and supports most formats natively, I'm not quite sold on why I need it. But maybe I'm just bitter about OnLocation.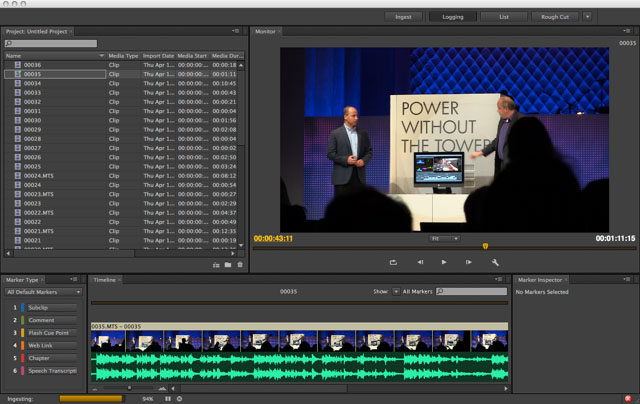 Figure 4. Adobe Prelude helps you ingest and log file-based footage. This footage is from the launch of the HP Z1.
Again, OnLocation is now gone from the suite. While Prelude is actually a much better solution for the file-based formats many shooters are moving to these days, tape-based shooters lose their waveform monitor and DVR. For this functionality alone, OnLo will definitely be missed by those that don't have a legacy copy on their computer.
Moving on to happier thoughts, Adobe converted Encore to full 64-bit operation. Beyond this, Adobe added support for imported DTS multiple channel audio, and beefed up their Flash-based web-DVD authoring functionality to incorporate Blu-ray like features such as multiple page and pop-up menus. Beyond producing the DVD for my project, I did no testing on Encore so have no performance numbers to report.
Finally, regarding Adobe Media Encoder (and saving the best for last), Adobe added parallel encoding to CS6, which now produces multiple targets from a single job simultaneously. You can see this in Figure 5, where I'm encoding nine iterations of Preacher Sam simultaneously, which brought CPU utilization on my 8-core Mac Pro up to 97%, heights previously unseen by Adobe Media Encoder.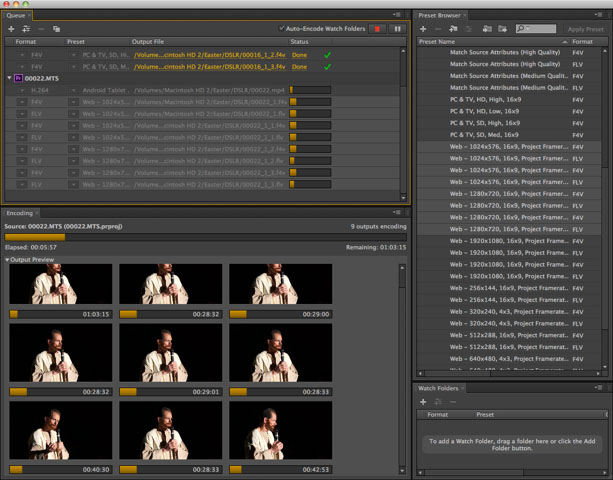 Figure 5. Adobe Media Encoder now does parallel encoding, producing nine simultaneous iterations of this video clip.
Parallel encoding doesn't automatically produce extensive performance gains; Adobe Media Encoder has traditionally been a very fast encoder, particularly when producing H.264. But it sure is a great start and I look forward to seeing how it does in my benchmark testing. You can also see the new preset browser on the right, with lots and lots of new presets.
So there it is, Premiere Pro CS6 in a nutshell. There are several critical enhancements, like unlimited multicam in Premiere Pro and parallel encoding in Adobe Media Encoder, which if not unique or groundbreaking, will be sufficient to make the upgrade essential for many users. Otherwise there are lots of other new features, not only in the Premiere Pro bundle, but in the suite as well.