Every year or so I have a chance to talk tech with Peter Scott, who, as vice president of emerging media for Turner Sports, oversees digital operations and technology for Turner's current portfolio which includes TNT OverTime on NBA.com, TNT RaceBuddy, and PGA Championship Live. As a journalist and consultant, I live in a bit of a theoretical glass tower. In contrast, Peter lives where the rubber meets the road, delivering streams to customers that advertisers have to pay for. I value his experience, perspective and knowledge, and appreciate the opportunity to chat. Here's what we covered this year.
Streaming Media: Tell me about this year's PGA Championship.
Peter Scott: Fun tournament, and a great success for Turner. To provide some perspective, last year we offered two streams to desktops, one via Flash, the other a higher quality (HQ) stream that required the viewers to download a plug-in, and was slightly delayed. Last year, 70-80% of viewers watched the Flash stream, which we configured at 640×360@800 kbps, and 20 – 30% opted for the HQ stream, which was 2.2 mbps. We felt that the plug-in and delay presented a barrier that dissuaded many potential viewers from the higher quality, which we wanted to encourage.
So this year, we switched to the Akamai HTTP HD Network player, encoding at six different bitrates from 500 kbps to 2.5 mbps, and delivering the streams adaptively. No plug-in beyond Flash was necessary, and of course, virtually all viewers have that anyway, and we found that 75% of viewers connected using the 1.5 mbps HD stream. Because it was delivered via HTTP, there were also no firewall issues.
Streaming Media: What did you do to complement the higher quality video?
Several things. First, we presented the video in a smart DVR. When viewers connected, they saw the live stream, but could scroll backwards, with markers at significant events in the stream (see figure). We had a logger on site marking these moments via XML. Viewers could hover over the various markers, see what happened on that spot, and click to replay the video. Viewers liked that feature, with over 40% clicking back at one time or another.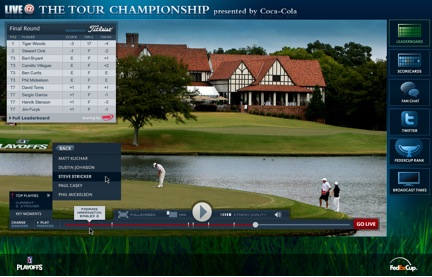 Turner's Smart DVR, with markers at key events, scorecards, leaderboards and fan chat.
We also added a leader board viewers could display on screen, scorecards and chat, and again found lots of participation in those features. Overall, traffic numbers were off the charts, and the bitrate average is 1.5 kbps.
Streaming Media: What did that cost?
Well, that's the downside, served a lot more bits through our CDNs and had to pay more. Balancing that was a great user experience, which we were able to monetize with advertising. Our advertisers loved the quality of the experience and the extensive viewer exposure.
Streaming Media: You seem pretty bullish on HTTP-based streaming; why is that?
In our experience, HTTP is more efficient in serving video than RTMP, and we feel that we've mastered the ability to deliver in HTTP. HTTP lets us serve the video in chunks, which we can manage more efficiently than sending one or more continuous high bitrate streams. We also think it's more efficient on the infrastructure side due to caching, and avoids the firewall issue entirely.
Streaming Media: What about Zeri (Adobe's HTTP-based streaming technology)?
Well, because of the nature of some of our episodic projects – think PGA Championship, or March Madness – we can try new technologies and see how they work. We had a great experience with Akamai, but if Zeri is available and proven by March, we may try it.
Ultimately, the viewer decides. As publisher, we can test different technologies to see which delivers the most feature rich, and cost effective streams, but the user experience is paramount to our viewers and advertisers. All that said, we had a great experience with Akamai's technology, and now it's proven.
(For more on adaptive streaming technologies in practice, see "Adaptive Streaming in the Field.")
Streaming Media: How did you serve iDevices?
All of our sites—whether it's the NBA, PGA or NASCAR—all support iDevices. Our web site detects the device and uses Apple's HTTP Live Streaming to adaptively deliver the appropriate stream.
From a technical perspective, we encode these inhouse and upload them to Akamai for delivery. We encoded four different streams, ranging up to 1.2 mbps for the iPad, and we saw lots of iPad-based traffic.
Streaming Media: What's your sense of whether you were competing against the television broadcast or enhancing it?
Interesting question. I think your strategy there depends upon whether your typical viewer has access to a live TV feed or not. If not, a high quality adaptive bitrate stream can be very effective, even if there's a 20 or 30 second delay.
In contrast, if the viewer can watch on TV, which they certainly could for the PGA Championship, you have to attach relevance and personalization to complement HD/HQ experience. Clearly, TV can't personalize the experience, which viewers seem to really appreciate. For example, one huge turning point in the PGA Championship was when Dustin Johnson grounded his club in the bunker on 18, but no one realized it at the time. Once it because evident, you had to depend on the network to replay those streams – but our viewers could click the marker and see it as many times as they wanted.
The other thing TV can't do is monitor what the viewer is doing, and our log files give us instant feedback as to what features the viewers appreciate and use. You know instantly what works and what doesn't, and can quickly iterate players and make them more interesting. That's a huge benefit that allows you to serve the viewer – and ultimately your advertisers – more effectively.
Streaming Media: What's Turner doing about HTML5?
Let's face it: The world, Turner included, supported Flash because it's easy, but ultimately, we think Steve Jobs has a point—HTML5 is more accessible in the long term. Right after the introduction of the iPad, we started encoding all videos to H.264 format so we could deliver the same stream to Flash, iDevices and other HTM5-compatible browsers that support HTHL5. Obviously, we're not abandoning Flash, but we're monitoring the situation closely.